Darren Randolph believes Andy Carroll is 'unstoppable' at the moment and is excited to see his new partnership with Michail Antonio in the West Ham attack.
Carroll has scored three goals in the last two games which included a contender for goal of the season after he scored a memorable scissor kick against Crystal Palace at London Stadium.
The Hammers striker followed up his wonder goal with a brace against Middlesbrough last Saturday and looks back to his best following a frustrating start to the campaign after he was sidelined with a knee injury.
Randolph is excited to see Carroll producing his top form, but insists any talk of an England call-up is premature at this stage and the experienced forward just needs to concentrate on his club form and let his football do the talking.
Randolph said: "Andy is unstoppable at the moment.When the service is right and everything is going for him you cannot live with him and he is massive for us.
"We are just happy to have him back fit again and he is playing regular football. That is the most important thing for him at the moment.
"It is the same for any player that they need to concentrate on their club form and everything else follows in terms of a national call-up."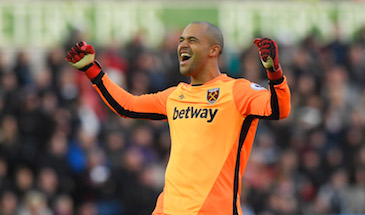 Randolph has nothing but praise for the way Carroll and Antonio have developed a formidable partnership in the West Ham attack.
After producing a hat-trick of assists against Crystal Palace, Antonio turned provider once again when his low shot was only parried by Victor Valdes and Carroll was in the right place to strike the ball into the corner of the net.
The Hammers keeper feels they have the ideal qualities to play alongside each other and says they can be a match for any team in the top flight.
Randolph added: "Michail is playing at the top of his game. When he is not scoring he is creating assists and is another player who is on top form.
"When he plays alongside Andy they are going to cause anyone problems when they play to strengths like they have done in the last few games and it is tough for defences to play against.
"They compliment each other well with pace from Michail and the power that both of them have. It is a tough combination to live with.
"Michail has also had a little taste of getting into the England squad although he is yet to get on the pitch yet. It is something that will come if his club performances keep going the way they are. There is only so long that he can be ignored for."
Randolph has no doubts that the recent victories over Palace and Middlesbrough has improved the team spirit and brought everyone closer together.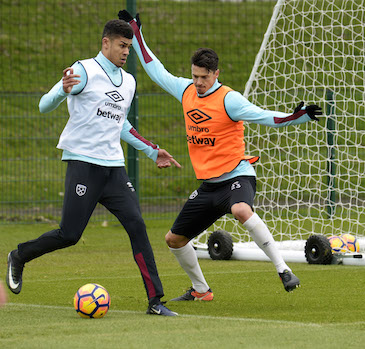 The Republic of Ireland keeper believes the arrival of Jose Fonte from Southampton will only improve the squad and can already see the quality he will bring to the team.
"You can tell from the last couple of performances and results that we are heading back in the right direction and it has come at a time when we all needed to pull together. It is probably the best confidence we have had as a squad this season because we are playing well and getting the results.
"Jose is a great addition to the squad. He has a lot of experience and it can only be a good thing having him in the squad, especially as we are playing so well at the moment.
"It is only going to add to the quality that we have and to the squad as well. I have already seen in training that he is a leader. He is loud and vocal and organises well. It should be a good addition."
Randolph is now preparing for another big home game against Manchester City next Wednesday and says he would like to make it three wins in a row and make up for the disappointing Emirates FA Cup defeat against Pep Guardiola's side at the start of January.
The Hammers keeper hopes the fans can re-create another special atmosphere at London Stadium and roar the team to victory.
"Personally I am not looking for revenge. I just want us to pick up more points and move higher up the table.
"The London Stadium could become a fortress if we manage to re-create the atmosphere that we saw against Palace.
"I know there was a lot of extra passion from the fans from the week leading up to the game, but if we can see that kind of atmosphere every week we can make the stadium a fortress and it will be a hard place for teams to come to."