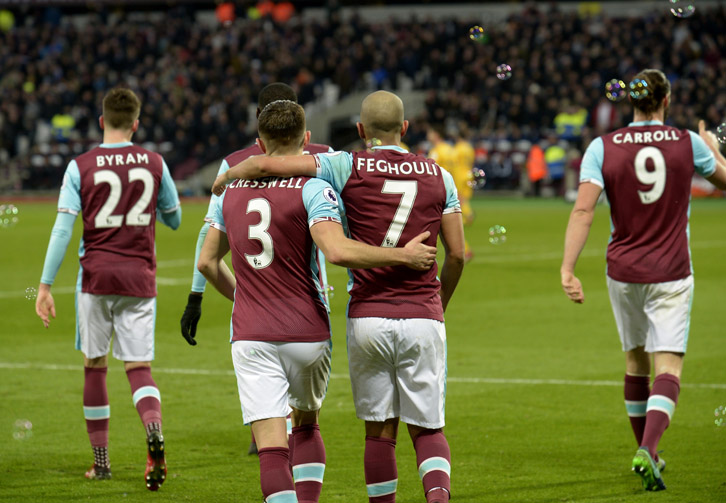 After a blistering start to his West Ham United career, scoring in the Club's first ever match at London Stadium, Sofiane Feghouli became frustrated with injury troubles soon after.
He endured a few difficult weeks in east London before beginning to make an impact as a substitute in Claret and Blue.
However, the Algerian has bounced back in style, starting the Hammers' last four matches, scoring in the side's 3-0 home win against Crystal Palace.  
How important was it to score your first Premier League goal for West Ham United against Crystal Palace recently at London Stadium?
"It was very important. It was also a reward for my efforts so far. It was my second start in the Premier League and in my first one against Manchester United, I was very frustrated to get the red card.
"Against Palace, I played the full 90 minutes, we won convincingly and obviously I scored so it was great."
How special was Andy Carroll's goal in that game?
"I am very happy for him. It was an incredibly difficult goal to score and it took great technical ability to do so. It was certainly the best I've seen in the Premier League this season and hopefully he can score many more to help us get into the top ten this season.
"It was fantastic and I can only congratulate Andy on that particular goal!"
It important was it to build upon the Palace result with the win against Middlesbrough?
"It was very important. The Palace game was huge because it was a derby match, making the game extra special for all our supporters, and I was very happy. Then, it was a huge boost to our confidence to go and win against Middlesbrough."
Do you think the Club has turned the corner, and things are much more positive than earlier in the season?
"The whole week at a Club after a win is always very positive. We need to be humble as players though, and recognise there are always areas to work on. We are capable of working and moving even further and we know if we give our all and show our quality, that's what we can do."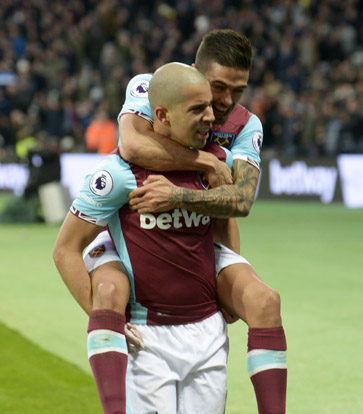 What is the mood like around Rush Green at the moment?
"The atmosphere is very good. Everyone is working very hard at the moment, although we're always doing that. It was hugely important to win on Saturday against Middlesbrough for our supporters."
What does it mean to you to be starting in the Premier League now after missing a large chunk of the season with injury?
"Of course, for a player it's always hard when you're not starting games, and to begin with it was tough when I was struggling to be given a chance.
"When you get that though, you need to take it, so I've been working hard in training and I feel when I have started the last few I have done that. I am hoping to continue to start matches and help the team now going forward."
What challenges did you face as a player coming over to West Ham having never played in England before?
"Coming to the Premier League, you want to prove yourself and adapt quickly. West Ham have an ambitious project, to be competing in the top half of the Premier League and I have a contract here for three years, so I hope to be doing that.
"London doesn't quite feel like home just yet, but it's a lovely city and people are very open here. It's hard when things aren't going as well on the pitch, it's harder to feel at home but things are looking up in that regard and I'm very happy here.
"My family is very happy here too. The Club always does everything they can to help new players settle in, too."
Do you feel as though the fans are now starting to see the best of you as a player?
"I haven't been here long, so no; I think it will still take some time to show my absolute best. I know that there is more for me to show to both my teammates and the supporters of the Club."