Jose Fonte is used to lifting major silverware and now hopes to win even more trophies at West Ham United.
Fonte enjoyed the best day of his career last summer when he was part of the Portugal team that won the European Championships in France.
The Hammers new signing has now got the hunger to achieve more success and hopes his move to London Stadium can help achieve that over the next two-and-a-half years.
Fonte, who joined the Hammers from Southampton on Friday for £8million, cannot wait to make his debut for the east London Club and says the fans and manager Slaven Bilic played a big role in his decision to join West Ham United....
Jose Fonte - welcome to West Ham United. Why have you decided to join the Hammers?
JF: "I signed for West Ham because they are a great club and a very big club. They have a lot of fans and I have known for a number of years how passionate they are.
"The manager was also a very big influence. I thought that he really wanted me and that he sold me the project and the ambition of the Club.
"I also have part of my family living in London and they are big West Ham fans. It just made sense for me at this stage to join West Ham. It is a new challenge and a new beginning and I am looking forward to it."
We already have Fonte fans in the West Ham family. How much are you looking forward to playing in front of them?
JF: "I am looking forward to it and they are Season-Ticket holders. I will find out where they are sitting in the Stadium and they have been West Ham fans for a number of years – especially my brother-in law.
"He was on the phone to me all the time wanting me to sign!"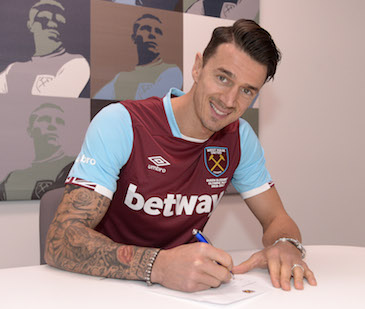 There were a number of big clubs interested in signing you. Was it the ambition of the Club that persuaded you to put pen to paper on joining the Hammers?
JF: "You just have to look around and see the Stadium and the ambition of the owners and the investment in the team. You see where they want to go and the fans support.
"I am very pleased to be here and I just want to start working and repaying the faith."
You touched on the manager Slaven Bilic. How much did he play a factor in you signing and how much are you looking forward to working under him?
JF: "Slaven was a massive factor. I met the gaffer and he was very persuasive. I like him and have always liked him, even before I met him and the way he is.
"I have asked a few players who know him as well like Tadic and Lovren and they gave me the best indication about him.
"As soon as I met him he made me feel comfortable and I just want to help the team win and succeed."
What is it going to be like for you playing at London Stadium and playing in front of 57,000 fans every home game?
JF: "It is every players ambition to play in front of a crowd like that every week. I just want the team to make it a fortress.
"I want everyone to come together and make it a very hard place for the opposing teams."
After the impressive 3-0 win over Crystal Palace last weekend, how much are you looking forward to getting into the team and showing your quality?
JF: "I saw the game and how the fans reacted. It was an important win and I hope we can continue like that.
"It is only like this that we are going to be successful. Everyone pushing together and supporting the team."
One player you know well is Michail Antonio having played alongside him for Southampton and winning the Johnstone's Paint Trophy at Wembley back in 2010. Tell us about Michail and your memories of playing alongside him?
JF: "Michail was only young at the time. I was young at the time as well! He had raw pace, talent, explosiveness and we could see the potential in him.
"He was fantastic in the Final and scored a goal. It was a great day at Wembley."
Michail produced a hat-trick of assists last weekend and is hitting top form at the moment. How impressed were you by his performance against Crystal Palace?
JF: "He has been outstanding and has done really well for himself. I am happy for him and I just hope he can continue to help the team so we can have many more wins."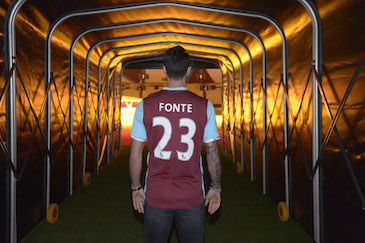 In your area of the team, there are a number of players challenging for places like Winston Reid, Angelo Ogbonna and James Collins. How much are you relishing the competition for places in the West Ham defence?
JF: "Competition is good and healthy. It is the manager's decision at the end of the day.
"I just want to help the team in any way I can – both inside and outside the dressing room. Whoever the manager picks will do their best but I am here to be a part of that."
What are your aims and ambitions at West Ham over the next few years?
JF: "With the way that West Ham is going we can only look to be challenging in the top eight.
"I told the manager in conversations that we want to win and we want to win trophies. The ambition is big and we need to aim high.
"West Ham are a massive club and it is an exciting challenge and it should be for everyone. We all need to get together and start working."
We now have a Euro 2016 winner in the squad. How much pride do you take from that memorable day in Paris last July?
JF: "It was the best day of my career. It was a moment that will be with me forever for many reasons. It was a dream come true.
"After coming into the national team at 31 and then become a champion is something I am very proud of. I just want to keep going and there are many more things to win.
"I have the hunger to win more trophies and hopefully many more will come."
Your first game could be against Manchester City at London Stadium. How do you feel about making your debut for the Hammers in such a big game?
JF: "They have great strikers and one of the best forwards in the world in Sergio Aguero but if we produce a good display it will be an easier day for me.
"I relish this kind of challenge. I have played against City a few times but it is about the team and not the individual. I hope we can get a good result."