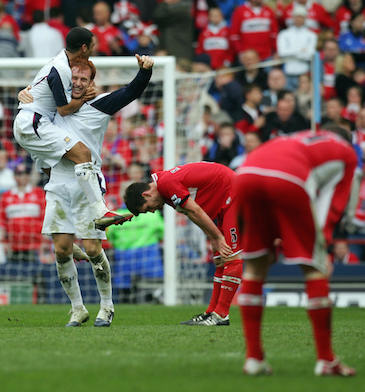 James Collins will always have special memories of facing Middlesbrough and hopes to be celebrating another big victory at the Riverside Stadium on Saturday.
Collins enjoyed one of his best moments in a claret and blue shirt when he helped West Ham record a memorable FA Cup semi-final win over the north east club back in April 2006 to reach the FA Cup Final for the first time since 1980.
Marlon Harewood's second half winner at Villa Park made it a day to remember for the thousands of Hammers fans who made the trip to Birmingham and the Welsh defender will never forget the celebrations that followed.
Collins said: "It has to be one of my best days in a West Ham shirt and one of the highlights of my career.
"Everything about it was fantastic. It was my first year at West Ham and we knew it was going to be a big day. If we got the victory, we were going to Cardiff to play in the FA Cup Final.
"We played really well and I probably have most of my memories from after the game when we were celebrating in the big bath tub and enjoyed the celebrations. That will stay with me forever."
Collins will be making his first appearance at the Riverside Stadium since 2008 when Hayden Mullins got on the scoresheet during a 1-1 draw and will be hoping for a better outcome this weekend.
Following the memorable 3-0 win over Crystal Palace last weekend, the experienced defender admits the players are full of confidence as they prepare for the trip to the north east and hopes to see a repeat performance.
It has to be one of my best days in a West Ham shirt and one of the highlights of my career.

James Collins
Collins added: "It has been a while since I last played up at Middlesbrough. It is always a tough place to go and they are doing well back in the top flight.
"But we took a hell of a lot of confidence from the performance on Saturday and all the players look sharp back in training. The boys who are in the team are hitting top form and hopefully we can re-produce the form we showed against Crystal Palace.
"We have been threatening to come away with a performance like that. A couple of games we have conceded a lot of goals, but we knew if we could keep a clean sheet that we had the players going forward to score us the goals.
"We are delighted to have scored three and it could have been a lot more."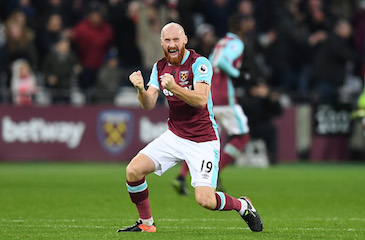 One of those goals included a memorable scissor kick from Andy Carroll and Collins says it is one of the best he has ever seen during his career.
"I said to Andy after the game that I don't think I have seen a goal as good as the one he scored on Saturday.
"I was standing right behind it and I have not seen a strike as good as that. All credit to Andy and he has been trying it a couple of times in training since I have known him.
"To pull it off in such a big game and such a big goal for the club is great for him. He is hitting top form now and long may that continue.
"It comes down to technique and I have seen a few in my time but that is the best bicycle kick I have ever seen. A lot people probably thought he was going to head it, but he has tried it in training and lucky for him it has paid off in the game."
Collins also had nothing but praise for Michail Antonio who was forced to miss the build-up with a high temperature and produced one of his best performances as he completed a hat-trick of assists.
"It was a brilliant performance from Michail. He didn't really train with us last week and credit to him for the way he has played. He was still pretty ill before the game but the performance he put in was fantastic.
"He said it wasn't going to be a problem and he set up three goals and it could have been more. He is hitting top form as well so we hope they can do the same again on Saturday.
"He is a top footballer and can do a good job wherever he is asked to play. He played right wing-back in the first half and did well and then he went upfront and it gives us a totally different dimension when he is playing alongside Andy.
"Andy can flick the ball into Michail and he has got the pace to get in behind. He can set up goals as well and is the all-round footballer at the moment."