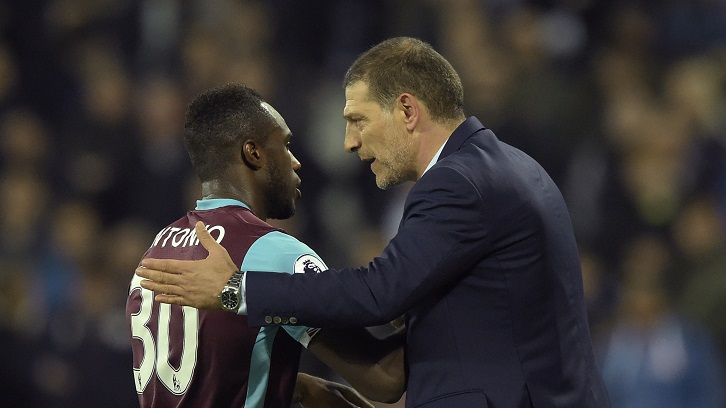 Slaven Bilic hopeful that Michail Antonio will sign a new contract in the near future
Winger has been in outstanding form for West Ham United over the last 18 months
Antonio has scored 16 goals in 46 Premier League appearances in Claret and Blue 
Slaven Bilic hopes Michail Antonio will sign a 'deserved' new contract with West Ham United in the near future.
The No30 has been outstanding since breaking into Bilic's starting XI in December 2015, scoring 16 goals in 46 Premier League appearances and assisting six more.
Just 18 months after moving to the Hammers from Championship club Nottingham Forest, Antonio's form has seen him become an automatic pick for the manager, while he was also called-up by England for the first time last October.
Speculation has been rife that Antonio would be offered a new contract to warn off potential suitors since the January transfer window opened, and Bilic hopes the deal will be completed shortly.
"The players have deals, but he is the player who came last season to us and he has improved a lot and came from being a player for the future to one who we gave a chance to one of our most important players," he said, speaking during his press conference ahead of Saturday's Premier League trip to Middlesbrough.
"It's been long-term, too, and not just the last few games. Last season, since he scored that goal against Southampton, he has basically not stopped.
"He was very good for us last season and he has continued to do it for us this season and when players are playing like that, at a good age as well, then a lot of clubs – at least in the papers – are interested in them and that puts them in a good position for a new deal.
"He definitely deserved it, so it's a Club decision together with my own but for me he has a big-time green light to sign a new deal with us!
"I think it [talks] just started but I don't know all the details about all that, as I leave it to the Chairmen, but I hope it's close. Well, I hope it's done, to be fair!
"I see no problem there because he is definitely the one who totally deserves it with his behaviour, with his work-rate, with his quality and, at the end of the day, with the goals, assists and energy he is providing us with."
He definitely deserved it, so it's a Club decision together with my own but for me he has a big-time green light to sign a new deal with us!

Slaven Bilic on Michail Antonio
When asked how Antonio has blossomed into one of English football's top performers, just a few years after plying his trade with non-league Tooting & Mitcham United, Bilic praised the winger's determination to succeed above all else.
"It's a character and that's the main thing," he confirmed. "When you are a manager judging players, you can say 'he has a great left foot, a great right foot, pace, skills, vision' and all that, but it's the character that makes the difference.
"For me it's not enough only to have character, you have to have quality, but what makes the difference long term in your improvement on a daily basis is character and his character is spot-on.
"Last weekend, for example, he wasn't supposed to play in that game because he had a temperature of 38.4 degrees the day before the game, which was definitely high enough to rule him out, but he wanted to play and to play in those conditions is unbelievable.
"To contribute as he did with three brilliant assists was amazing, so he deserves credit for that game, big time."