West Ham TV caught up with Michail Antonio to get his exclusive view on his hat-trick of assists and discover why he felt left out of the goal celebrations!
Andy Carroll stole all the headlines on Saturday with his memorable scissor kick, but it would not have been possible without the help of Antonio.
The No30 was instrumental in helping the Hammers come away with a memorable 3-0 victory, despite being forced to miss the build-up with a high temperature and still feeling sick on the morning of the game.
But the Hammers forward showed his commitment to the team as he declared himself available for selection and the move paid off as he produced one of his best performances of the season.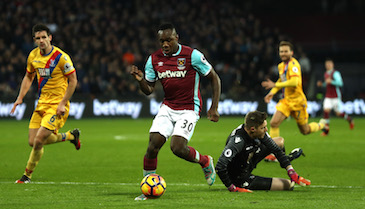 Antonio provided no fewer than three crucial assists and has nothing but admiration for the way Carroll executed the perfect finish and scored one of the goals of the season.
But he joked Carroll would not been enjoying all the attention if it was not for his accurate cross into the box which fell perfectly for the Hammers forward!
Antonio said: "Manu's made a good run and passed the ball back to me. I saw big AC at the back post and was thinking to go for his head, but no!
"He does an unbelievable bicycle kick. To be honest, I saw him shaping up and I was thinking, "No what are you doing?! No…OH! OK, do that again next time, do it again, beautiful.
"It was quality, but you know what, he doesn't get to do that, if it wasn't for my ball!"