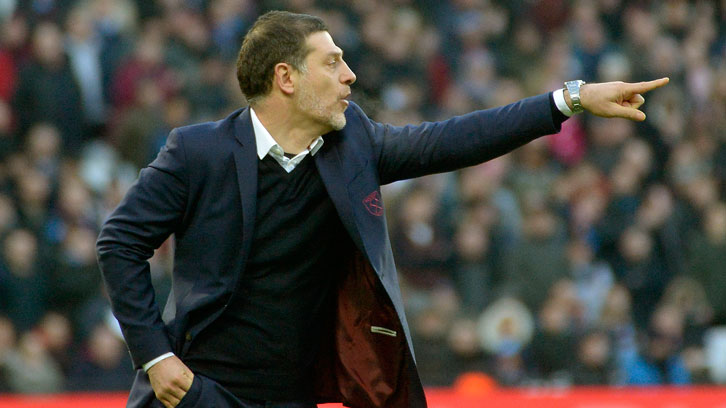 Slaven Bilic says team must build on positive momentum gained from Crystal Palace win
Boss explains tactical switch at half-time which laid foundation for victory
Manager thrilled with team spirit and application from Hammers
Slaven Bilic hopes his players can use Saturday's win over Crystal Palace as a positive turning point in their season.
The Hammers ended a run of three defeats without scoring a goal in the best possible manner – smashing three past Crystal Palace in a second half performance of clinical finishing.
More important for the boss was the show of team unity and he has impressed on them the importance of capitalising on the momentum gained.
Bilic explained: "The players always give everything, and at half-time I said to the guys, I don't believe in those sayings 110 percent, 200 percent. There's only 100 percent, but sometimes it's true and this is the time when we have to give 150 or 200 percent. They did it.
"I also expected that, I expected that [the reaction] from the crowd and from the players, and I think it was a great example that it's all about the team, not individuals.
"It's a great moment for us that we should use to build on. The season is very long, but you have – like every club – a few crucial moments to drop or to build on and go up.
"We're going to do everything we can to use this kind of situation to lift us up in every way. If we gain confidence and team character from this, then it would help us be a better team. That's what we aim to do."
A tactical switch went a long way to the Hammers' victory on Saturday, as a move to four at the back and shifting Michail Antonio closer to Andy Carroll pressed Crystal Palace back.
Bilic spoke of his reasoning for the change: "It was an option for us to play with two strikers today, but because we didn't have Nordtveit at right back we were limited in that position.
"To put Feghouli at right wing-back was a bit too long for him because he has to defend also. To be fair the only reason we didn't put Sam Byram in from the start was because he's only come back from a big operation recently.
"We were missing one person to be up there with Andy in the first half, and it was a good decision for us to make at half-time, going with Sam, changing the system and it worked really well."