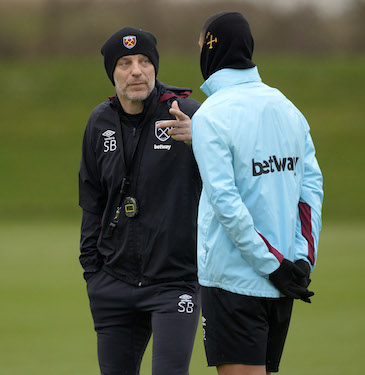 Good morning everyone,
We all know the importance of getting back to winning ways when we play Crystal Palace this afternoon.
We have had some good performances agains them in recent matches and I hope we will see another good display today.
We have managed to come away with two victories at Selhurst Park and both of those games the team played really well.
Last year at home we were winning 2-1, then Cheikhou got a red card and when we were reduced to ten-men, Dwight Gayle got a late equaliser and it finished 2-2. We managed to win the appeal against the decision after the game.
We will be hoping that Manuel Lanzini can continue his impressive record against Palace having scored three goals and hopefully he is going to score again!
Due to injuries, players away at the Africa Cup of Nations and some difficult circumstances this week, I will have to make a few changes for the game today.
We haven't got a big squad now left, but we have enough players to put a strong team out and have good players on the bench for the reaction.
That's the crucial thing in the Premier League, to have options on the bench to change the game, or to raise the game. We have it here.
I have good news that James Collins and Sam Byram will be back in the squad and it is brilliant to have both of them back in contention.
I was asked in the pre-match press conference if this is the toughest time I have had as a manager.
I was asked that question a few weeks ago as well! Don't get me wrong, I'd rather be up there with Chelsea but I was thinking yesterday by myself that this is, including the new situation, this is an unbelievably great challenge for me personally.
I feel so strong and I want that challenge. I want to try and solve this puzzle now. It's not enjoyable of course but when you have such a big challenge in front of you, it motivates you even more and it gets the best out of you and that's how I feel now.
Once again I was asked about the possibility of new signings coming into the squad.
Some managers are saying this January transfer window should not be there. That it is useless - in one sense they are right and I think that way as well.
But the season is so long that you need the chance to sign some players because some get injured and it is tough.
It is totally different than the one in the summer when you start from zero. You have three months to prepare and then you have pre-season and everything.
Clubs are also more willing to sell players during that time. They have no time to replace them now so it is a tough one.
But it's not different from last year or the one the other clubs are also having when you read their situations regarding the transfer window.
Enjoy the game this afternoon.
Slaven