Hammers defender Angelo Ogbonna returns in the latest edition of his new blog, which delves into the Italian's life with the Club.
This week, the former Juventus centre-back discusses the big London derby against Crystal Palace and the importance of getting back on the winning trail.
The 28-year-old also reveals why he is looking forward to seeing a familiar face back at West Ham United this weekend…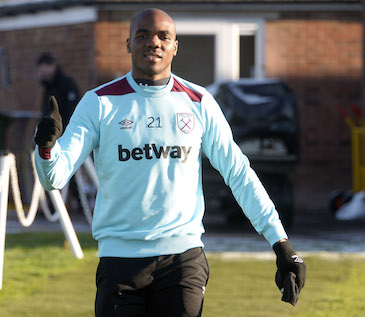 Hello everyone,
We need to get back to winning ways on Saturday against Crystal Palace.
I think the players were hurt by what happened against Manchester City in the last game.
But that is in the past now and we have to look forward and continue to improve our goals.
We have trained really well and even before the Manchester City defeat we were looking really good in training.
But we have to relay that work onto the field and keep fighting until we get a positive result.
One of the big positives for me has been my partnership with Reidy.
He is a very clever player who always reads the situation and is such a huge player for the team.
He makes it easy for you sometimes and I am very happy to be playing alongside him.
This is my second season with him and we are still working on making things better and we talk all the time about our performance.
I am looking forward to see my former team-mate James Tomkins again on Saturday and he is a very good player. It will be good to see him again.
We have a good relationship, but we have to think about our own situation and on the pitch we will not be friendly!
Tonks was popular in the dressing room but he wanted to play regular first-team football and show his qualities.
I came to West Ham after Sam Allardyce had left the Club and Slaven Bilic had taken charge.
I know he was very important for the club and for some of my team-mates will have more of a connection and it will be good for them to see him again.
Of course we have not been happy about the recent results because we want to improve but it is down to us to make the situation better.
We need the fans behind us on Saturday and they can make a big difference to the team.
We always feel that as players because the fans can act as a 12th man and with 60,000 fans behind us it can be very special.
I hope we can come away with another big result this weekend and there will be more exciting times ahead in the coming months.
Enjoy the game.