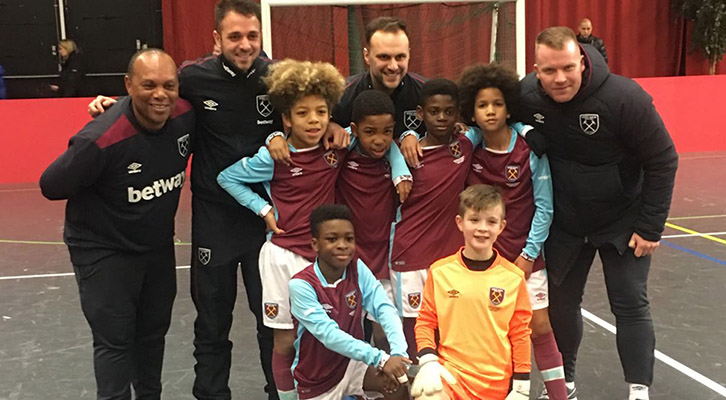 West Ham's U10s won the Ajax U10 Indoor Football Tournament at the weekend
The tournament featured the likes of Ajax, Feyenoord and RSC Anderlecht
Our U9s were also in the Netherlands and finished runners-up at the McDonald's Cup in Breda
West Ham United's Under 10s triumphed at the Ajax U10 Indoor Football Tournament on Saturday.
The competition featured 12 teams with the Hammers coming up against the likes of Feyenoord, RSC Anderlecht and Club Brugge.
The young Irons (pictured) topped their group in emphatic style, winning all four of their matches and scoring 19 goals in the process. In their last group match, they beat local side Poesele 10-1.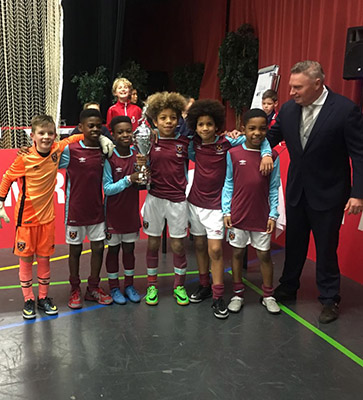 The Hammers again showed their superiority in the knockout stages by beating another local side, Purmersteijn, by three goals to one and then Dutch giants Feyenoord in the semi-finals 5-1.
Then came a final with Belgian side Club Brugge – the teams were tied 3-3 at the end of normal time, but the Hammers prevailed, winning 4-3 on penalties.
"After some excellent individual & team performances we soon became the most popular team to watch with the crowds next to our pitch surrounded and three to four people deep with our goals being celebrated by the locals," said coach Billy Lepine.
"The team never went behind with the score at any point throughout the tournament. It was a great effort from the boys."
There was almost cause for a double celebration as the Club's Under 9 side came close to winning the McDonald's Cup in Breda at the weekend.
Again, the Hammers topped their group, achieving a 100% record against HIK, Bredase Selectie, Everton and RSC Anderlecht.
In the semi-finals, the Hammers beat Feyenoord 4-2 and progressed to final to face London rivals Chelsea. However, the Blues were victorious in the final, winning by six goals to three.
"This tournament presented a difficult and different challenge for our 2008 born players, due to the intensity of the games and strength of the opposition throughout the whole tournament," said coach Carl Walker.
"With both some excellent team and individual performances throughout, it was overall a fantastic experience for our players."