Former Hammer Julien Faubert returned to West Ham United on Friday evening
Winger received a warm welcome from fans and former teammates and staff alike
France international brought his son Noam along to celebrate his eleventh birthday
Julien Faubert had a proud look on his face on his return to West Ham United.
The former winger made his first visit to London Stadium on Friday evening and, while the result did not pan out as Faubert would have hoped, he was full of emotion.
The Frenchman, who totalled 121 appearances across five seasons in east London, was joined by son Noam, who celebrated his eleventh birthday with a trip to Queen Elizabeth Olympic Park.
"I've always got a big smile on my face when I come back here," the 33-year-old told West Ham TV. "I still have my heart for the team, for the Club and for the players, some of whom I played with, and it's always a pleasure to come back, even if it is in a different stadium. The love is still here.
"The fans give me love back as well and it's normal when you play for this kind of club and these kind of fans that you have to give 100 per cent.
"To be honest, I had the best five years in my career here and when I was outside the stadium I met some fans and it made me happy."
I still have my heart for the team, for the Club and for the players

Julien Faubert
For Faubert, being able to introduce Noam to the likes of former teammates Mark Noble and Winston Reid and members of the backroom staff gave him great pride and satisfaction.
Faubert's close relationship with West Ham fans was strengthened still further in early 2010, when he received many messages of support after playing against Blackburn Rovers just 48 hours after the death of his mother.
"My son was young when I was here and now he is a little bit older and can realise what kind of club West Ham is," said the former France international, whose final game in Claret and Blue was the triumphant 2012 Championship Play-Off final win over Blackpool at Wembley.
"That match was one of the best moments of my career. Even the scenario was amazing as we scored at the end and got back into the Premier League. It was a great season for us."
"I've only got the best memories here, really. Even when I lost my Mum, I had big support from the fans straight away, so I'll never forget my time here."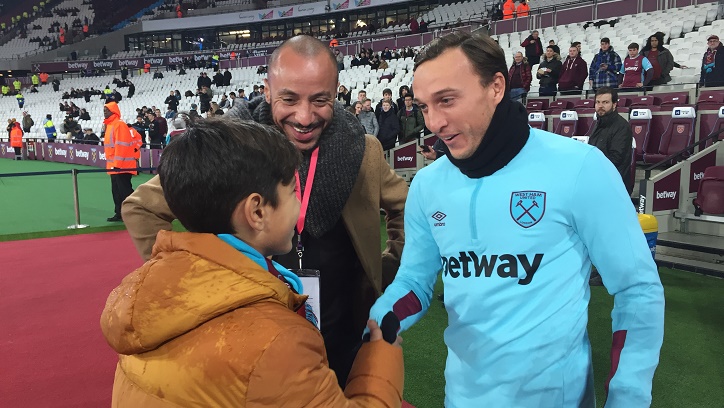 Perhaps Faubert's finest moment in a Claret and Blue shirt came in March 2010, when he scored one fine goal and set up another in a 3-0 Premier League win over Hull City at the Boleyn Ground.
"My performance against Hull was my favourite, where I did an assist and I scored a goal," he confirmed. "It was a great performance and a great feeling to do this in front of the fans, so I think it's my favourite."
Faubert believes the present-day Hammers have a bright future and believes that, in the long term, the move to London Stadium will prove fruitful.
"I think West Ham are going to take a different step," said the Le Havre-born player, who hopes to continue his own playing career with a new club this month. "They want to play at the highest level at the top of the Premier League and I think it's normal. The Club has a different stadium and a different future.
"I want to see West Ham play in the Champions League one day and this move and buying players like Dimitri Payet will help them do that."