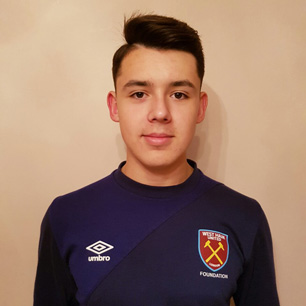 West Ham United Foundation left-back Vlad Sofroni could be in line to make his International debut in 2017.
The West Ham Foundation youngster has been called up to the Moldova under-17 squad for the first time ahead of their upcoming International Youth Football Tournament involvement.
Sofroni will travel from his home in Dagenham to Belarus capital Minsk later this month to join up with Serghei Chirilov's side ahead of the tournament, which last year saw teams from Czech Republic, Russia, Ukraine, Finland, Georgia, Moldova, Latvia, Lithuania, Japan, China and Iran.
This is the first time Sofonri has represented his country, having joined the Foundation's Learning Academy at Chadwell Heath in August 2016.
The Foundation's Learning Academy is run in partnership with education provider SCL, giving talented footballers aged 16-18 daily training from highly qualified FA coaches affiliated the West Ham United, in addition to guidance on their football fitness and nutritional advice. Players also study the BTEC Diploma in Sport, delivered at Level 2 and 3 standards (A-Level equivalent), FA Coaching Qualifications and core skills in Maths and English.
Sofroni said: "The Foundation programme gives me the opportunity to play at a professional level whilst continuing my studies within the sports domain.
"I really enjoy the programme. The people around us are always willing to help and teach us how to be professional football players. I made the right choice in joining the programme, because I have really improved in the 5 months I have been here and I want to improve more and more. I know the Foundation's staff can help me further with that."
Everyone at West Ham United would like to wish Vlad the best of luck in Belarus.