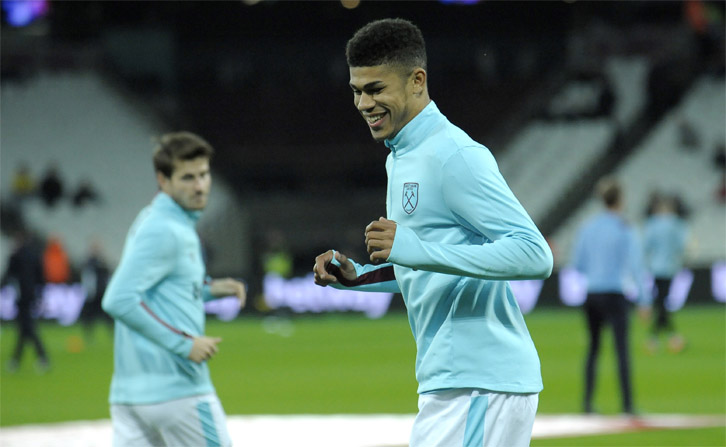 Ashley Fletcher says he will be feeling extra motivated facing Manchester City on Friday
The young forward left West Ham's opponents' fierce rivals Manchester United during the summer
The 21-year-old will be hoping to play a part having scored in the Hammers' last Cup tie
West Ham United forward Ashley Fletcher admitted he will be feeling extra motivated going into Friday's FA Cup tie against Manchester City having signed from the visitors' fierce rivals during the summer.
Fletcher traded Manchester United for the Hammers before the Club's big move to London Stadium and could face the Citizens there in the FA Cup on Friday night.
The striker, who started the Hammers' last cup tie, scoring against his former club at Old Trafford in the EFL Cup, will be hoping to get some more minutes in football's oldest competition this week.
Ahead of the third round clash, the 21-year-old, who scored two goals in as many U21 matches against the Sky Blues for his former club, declared he is always excited to face Manchester City.
"I'm a Manchester lad and coming from round there, I know what it's like as an ex-Man United player to play against City," he said.
"It will offer me a little bit more in terms of the game but we just have to treat it as a cup tie and look to go through.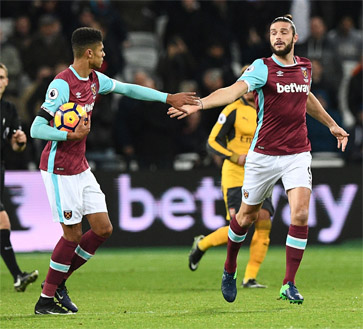 "It's going to be a tough game against them. They're obviously one of the best teams in the league so we're expecting a tough match. They'll be bang at it.
"But it's a cup tie and a cup tie can go either way and league form doesn't really matter. It's about who really wants it more on the day and hopefully we will want it more. League form goes out the window and it will be a good game to watch."
Fletcher last played from the start in Claret and Blue in West Ham's home defeat by Arsenal back in early December, but the return to full fitness of fellow forward Andy Carroll has forced the youngster to be patient.
But the Keighley-born attacker is delighted to have his teammate back alongside him in training, competing for a spot in Slaven Bilic's starting XI.
"Obviously we didn't have Andy with us for a big period and he's part of the way we play," he continued. "Now we have him back in, he offers us a different style.
"I think people have seen, we look more dangerous with him. It's a huge positive to have him and other players back.
"On Friday, we want to get a result because I think a cup run can give you confidence in the league so if we get a good result that can help us in the league as well.
"We had the Chelsea game in the EFL Cup under the lights and the atmosphere there was great. Hopefully we can create that same kind of feeling and hopefully we'll get the win."
A limited number of tickets for the clash are still available online. Click here for more details.