Slaven Bilic says West Ham United will be appealing Sofiane Feghouli's red card against Manchester United
The Algerian received his marching orders after a challenge on Phil Jones at London Stadium
The Hammers were eventually beaten 2-0 but Bilic praised his side for their determination right until the final whistle
West Ham United boss Slaven Bilic revealed the Club will be appealing the decision to send off Sofiane Feghouli for a foul on Manchester United defender Phil Jones in the Premier League on Monday.
The Croatian was left frustrated after the red card, shown inside 15 minutes of the clash at London Stadium, badly affected the flow of the match, which the hosts eventually lost 2-0.
Despite being reduced to ten men so early, West Ham battled bravely and twice almost took the lead when both Manuel Lanzini and Michail Antonio were denied by Spanish stopper David De Gea.
But substitute Juan Mata broke the deadlock just after the hour mark before Zlatan Ibrahimovic sealed the points for Jose Mourinho's men, scoring with 12 minutes remaining, despite being in an offside position when he received the ball from Ander Herrera.
Bilic struggled to hide his annoyance at the decisions after the final whistle.
He said: "I am the first to admit that it's hard for referees and every time you see TV cameras and slow motions, I say OK, they don't have it like that.
"But I said to Mourinho, I wouldn't have been happy with a yellow card [for Feghouli's tackle]. In real time, I said it was miss-timed but his foot wasn't up and wasn't crazy. I saw it afterwards and it shows that I'm right.
I said to Mourinho, I wouldn't have been happy with a yellow card. I said it was mis-timed but his foot wasn't up. I saw it afterwards and it shows that I'm right.

Slaven Bilic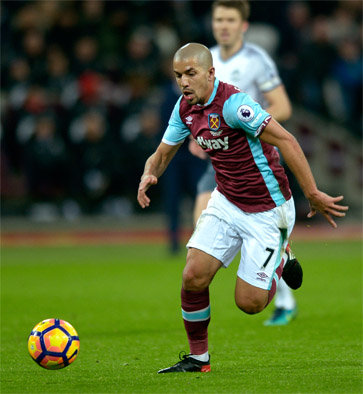 "Of course we will appeal. If we don't win the appeal, then what's the point of appealing? We should win the appeal, but if you tell me that we won't in this case, then…"
Algerian international Feghouli's heavy touch gave Jones the chance to make the challenge, and Bilic believed the England man was in the wrong.
"I saw it afterwards, it actually looked like the other way round," he continued. "It's more Jones who went into that dangerously and with what you say scissors, than Feghouli.
"The mistake was so high, and it killed the game terribly. The second goal is offside, and it's not like the players are sprinting. The players are walking so [the officials] have to see it.
"But I have to say we played really well, even after [the red card]. I have nothing but praise for my team. It started and looked like it was going to be a good game."
Antonio's golden chance three minutes before Mata's opener was another moment of frustration in a match of many on Monday evening, and Bilic noted the importance of that opportunity.
"We forced their keeper to make a great save at the end of the first half and then came that moment in the second half where, if we want to get anything out of these games where we defend and it drains you, you have to score that chance.
"Then they scored and we showed good character and determination and we didn't sink, like against Arsenal. We continued to search for the equaliser.
"We played until the end though and I told all the players that if we continue to play and fight like this, we will be high up the table.
"I'm frustrated and I don't like consolations in defeats but sometimes you have to and I feel like that today. I have nothing but praise for my players and they showed we are a good team. After the red card we played in the only possible way."