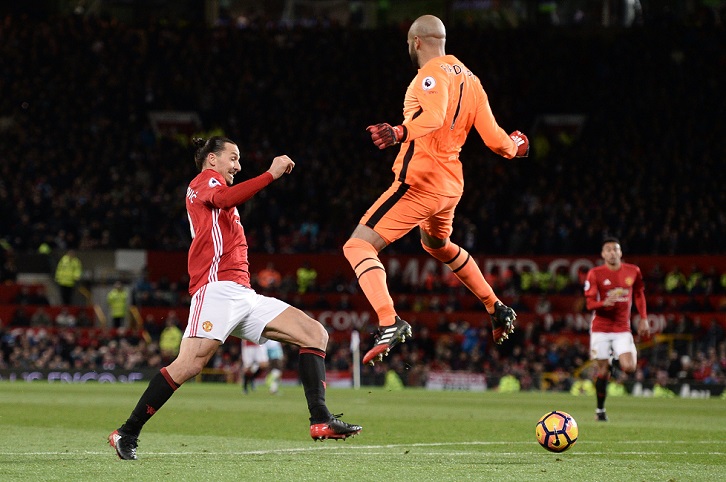 Darren Randolph relishing third duel with Manchester United's Zlatan Ibrahimovic in last six months
Irishman kept Sweden centre forward at bay at UEFA Euro 2016, after which stiker retired from international football
West Ham United goalkeeper earned 1-1 draw at Old Trafford in reverse fixture in November
Although he does not want to take any credit for it, Darren Randolph played a small part in forcing Zlatan Ibrahimovic into premature retirement from international football.
Manchester United's talismanic striker led Sweden's attack at UEFA Euro 2016, only to find Randolph in inspirational form in Republic of Ireland's 1-1 group-stage draw with the Scandinavians.
Defeats by Belgium and Italy saw the Swedes knocked out and Ibrahimovic announce the end of his illustrious international career, while Randolph and the Irish moved through to a Round of 16 clash with Dimitri Payet's France.
Six months on from that unforgettable summer, Randolph and Ibrahimovic will come face-to-face again when Manchester United visit West Ham United on Monday evening.
Having already duelled in November, when 'Zlatan' scored in a hard-fought 1-1 draw at Old Trafford, the No1 is relishing a third showdown with the iconic Swede.
"Maybe [I did play a little part in his international retirement]!" he smiled, when asked about his previous battles with the 34-year-old. "I think he had it in his head anyway that he was going to retire from international football if they didn't get through the group stage – plus we were the first game!
"As a 'keeper, although you play in a team, I look at it that I can be the hero, so I look forward to the game. I know I will be busy and have saves to make, even though I don't like to be that busy, and I do like the challenge and testing myself against the best players.
"It's not an individual sport, though, so I'll need some help from the rest of the boys to keep an eye on Zlatan and several other players."
As a 'keeper, although you play in a team, I look at it that I can be the hero

Darren Randolph
While West Ham were losing 1-0 at Leicester City on New Year's Eve, Manchester United were themselves recovering from a goal down to snatch a 2-1 home victory over Middlesbrough.
That win maintained their challenge for a top-four position, and Randolph is expecting a stern test when Jose Mourinho's improving Red Devils visit London Stadium for the first time.
"I think it was only a matter of time [before Manchester United hit form] with the squad that they have got," he said. "We've faced them twice this season and faced Chelsea, Arsenal, Liverpool and other teams that can score goals and it's going to be another good test for us.
"We seem to turn up and play our best football against the bigger teams, so again we will look forward to it. It's going to be tough, but those are the games you want.
"They played on Saturday as well, and were losing for most of the game, so they'd have had to work hard to get their win. They'll have had the same recovery time as us, so we'll see who is best-prepared mentally come Monday evening."