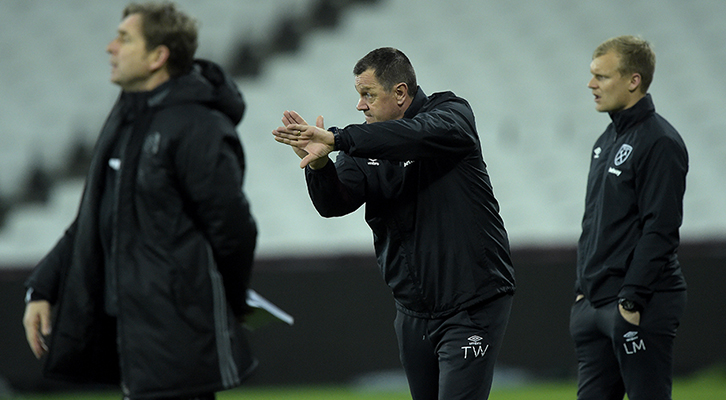 Terry Westley says the apprenticeship stage for footballers, between the ages of 17-23, is crucial in modern day football
The Academy Director was speaking on the talkSPORT Sports Breakfast Show
Westley also said the number of youngsters that train with the first team show that the talent is there
Terry Westley believes the number of West Ham United youngsters that have trained with the first team shows that the Club possesses hugely talented individuals.
The Academy of Football boss was speaking to talkSPORT on Thursday morning and admitted that it is much harder for teenagers to break into first teams of Premier League football clubs, compared to 20 years ago.
He did, however, stress the importance of the "apprenticeship" stage – the ages when players develop with the U18s, U23s and out on loan.
"There is players – you look at our club, we've got Josh Cullen, Marcus Browne, Martin Samuelsen, Reece Oxford, Reece Burke, Domingos Quina – they're all young players that are in and around [the first team] and we have got a manager at our club who they train with on a daily basis," said Westley. "They go in the first team group with Mark Noble and [Andy] Carroll and [James] Collins and they hold their own.
"There's not only players from Europe now, they're from all over the world so you can make that step, like Reece [Oxford] did against Arsenal a season ago, but that apprenticeship may take longer.
They go in the first team group with Mark Noble and [Andy] Carroll and [James] Collins and they hold their own.

Terry Westley on West Ham's young players 
"It's much more difficult to get into the first team at 17 now. That apprenticeship is more between the ages 17 and 23 and I think Reece Oxford is in that bracket. He's got to continue to work, maybe go out on loan and play games.
"But he is a top, top young player and will come through the West Ham ranks when Slaven feels he's ready for the team.
Westley also spoke about the reasoning and process behind the signing of 18-year-old winger Nathan Holland in January.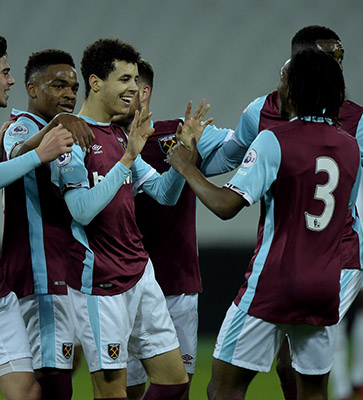 Holland has hit the ground running in claret and blue, scoring three goals in his last three U23 matches which resulted in Westley comparing him to a "young Ryan Giggs" after the 2-0 win over Fulham last Monday.
"He's been a good player for a long time, if you consider he's played for England in all the various age groups from 15," Westley added.
"He became available a month ago and someone said 'Nathan Holland might be available' and I had seen the boy play for England three years ago. It was one of them when you look at your programme and put a line underneath his name and think this boy is going to be one big talent.
"He'd been at Everton since he was nine. I think they've got in the region of about 35 U21 players and he's also a late developer, so those sorts of players can go missing, a bit like Martin Samuelsen at Manchester City. He's a late developer and, in the system, those ones can go under the radar.
"He went from being a very talented schoolboy to then taking a dip and Everton and Nathan Holland came to an agreement that he would be available for a move. We instantly stepped in and took him."
"I don't think Nathan is ready for that yet [a loan move]. He's only just come into our club and it's a completely different move for the boy. We want to keep him for a little while and we've seen a completely different boy in terms of he's enjoying himself and the confidence he showed playing in the main stadium the other day."
Terry Westley's PL2 side travel to Brighton and Hove Albion in the Premier League Cup on Monday at 1pm. You can follow the action from 12noon at whufc.com via our live blog and on Twitter.