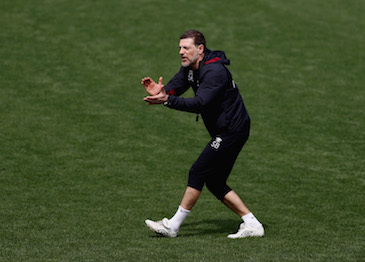 Good morning everyone,
We are preparing for another big game at Vicarage Road and the players are full of confidence following our successful trip to Dubai. We are a different team from the one who faced Watford back in September.
I was asked in the pre-match press conference about Troy Deeney's comments after the game that my players were showboating and it helped motivate the Watford players to stage a remarkable comeback.
I was annoyed that we lost a game when we were at home and two up. Troy Deeney said that, but it was a good moment for him to say that, to show the spirit of that team - but we didn't annoy them and we didn't try to humiliate them.
Back then we had players like Payet and Lanzini who had just come back from injuries or the European Championships and didn't do a proper pre-season, or players like Zaza, who had just come to the club.
Sakho, Carroll and Ayew were injured and we didn't have any option other than to put those players in the starting line-up.
That's why we crumbled, basically, after they scored the fourth goal, psychologically and also physically we couldn't cope with it.
Now the situation is totally different. We are a team that is in good form and we didn't want a gap because we already had good momentum but I am expecting us to continue how we finished.
I was asked if I will use his comments as part of my pre-match talk to the players. To be fair extra motivation can never harm you if it doesn't produce a chip on your shoulder or a negative kind of pressure.
I have a feeling that we don't need extra motivation now, we have a big motivation in training and I'm expecting it to be even bigger in games.
I'm probably going to say something, not just about that but something to give them a kind of injection before the game.
There is still a long way to go in the Premier League. We want to climb the table and what we definitely don't want is to come back again into the dodgy zone because we know how it feels when you are there. So, the motivation will not be a problem on Saturday.
Watford are doing a good job in terms of recruiting the players. Maybe in England they are not big names but they are very experienced and all have a lot of games in the big leagues.
I rate them as a very experienced group of players with big quality.
I have a feeling that we don't need extra motivation now, we have a big motivation in training and I'm expecting it to be even bigger in games.

Slaven Bilic
We are in pretty good shape going into the game. Aaron Cresswell is good and looks sharp. Robert Snodgrass missed training during the week with diarrhoea but he was back in training on Thursday. Diafra Sakho is very happy now. He's running and doesn't feel any problems. Hopefully the back problems that were causing all those problems with his hamstrings, which the doctor says is quite common (have gone away). In a few weeks time he will start to train with us. He will be a like a great new signing.
Arthur Masuaku is back and sharp, looks really good. So we have options now in basically every position. Even Angelo Ogbonna is recovering really good from his knee operation. So it's good.
We want to climb the table. Our plan is very simple. We will try to win as many games as we can. First of all we want to be safe. We're still not safe. If we are talking about the teams above us, West Brom is there and reachable.
There is a big gap now with Everton, but we just need to keep playing well in every game and then everything is possible. There are still an awful lot of points to be played for and everything is open. It's not over yet.
Enjoy the game this afternoon.
Slaven