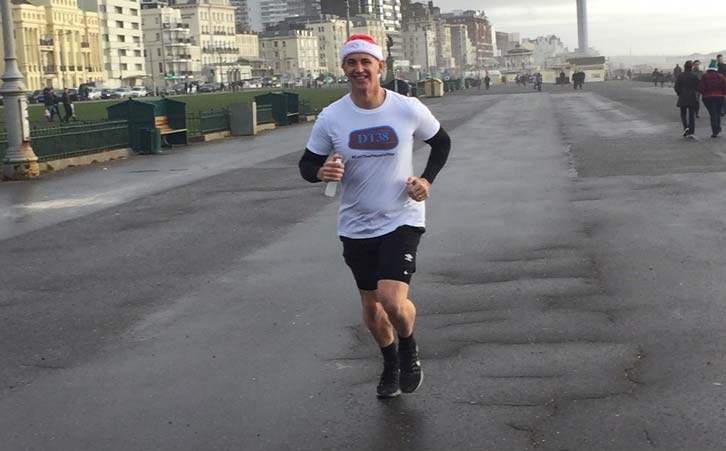 West Ham United are delighted to hear that Scott Howes, father of 19-year-old goalkeeper Sam, will run this year's London Marathon to raise money for the DT38 Foundation.
Howes, a former medic in the Army who now works in a specialist burns unit for children in Sussex, has set himself the gruelling challenge of completing the 26.2 miles for the charity set up in name of young Hammer Dylan Tombides who sadly passed away after losing his battle with testicular cancer.
Speaking ahead of the marathon, which takes place on Sunday 23 April, Howes said: "I've always wanted to run a marathon before I turn 50, and with that milestone coming up in December, this is my opportunity to do it.
"Choosing to run for the DT38 Foundation was an easy decision, and I'm very grateful for all the support they've given me, I just hope I can raise as much money as possible and help for all the good work they do.
"I didn't know Dylan that well personally, but Sam trained and played a few games together and everyone at the Academy and the Club knows how special he really was."   
With just over two months to go until the big day, Howes is looking ahead to the special occasion and is enjoying training so far: "It's a big test physically and mentally, but I'm enjoying myself. Training is going well and I'm gradually clocking up the miles.
"During my time in the Forces I obviously had to keep fit but this is a different test as it's more about endurance. As it's my first marathon I'm not too concerned about my time but I'd like to do it under four-and-a-half hours if possible.
"Clearly the most important thing is to raise as much money as possible, and I'm hugely grateful for everyone who has supported me so far and massively thankful for anyone else who can help me."  
Tracy Tombides, Dylan's Mother and founder of DT38 Foundation, said: "We are very proud, grateful and in awe of Scott for running the London Marathon for DT38.
"He's a fit guy, but even the fittest of guys have to train hard to run 26.2 miles and we are so delighted he's chosen to support DT38 Foundation.
"We are also really grateful to the people that have sponsored him so far, this will make a real difference in the work that we are doing to raise awareness of the risks to men's health generally, but specifically of testicular cancer."

To support Scott's campaign in aid of the DT38 Foundation, please click here.