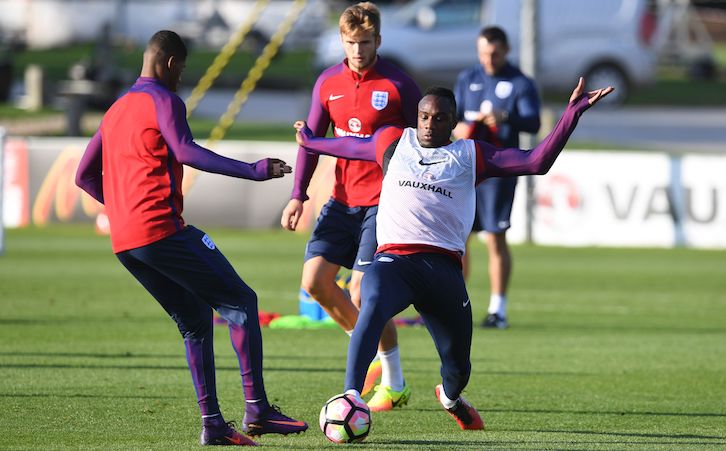 Michail Antonio directly involved in 25 goals in his first 50 Premier League appearances
Hammers star has scored 16 goals and chalked up nine assists
Number is better than any English wide midfielder bar Tottenham Hotspur's Dele Alli
Gareth Southgate will name his first squad as full-time England manager in a few short weeks, with a host of talented wide midfielders hoping to be included.
One player hoping to wing his way into Southgate's selection will be West Ham United's Michail Antonio, who was included in the former Middlesbrough manager's first caretaker selection in October 2016.
Undeterred, the No30 has missed just one Premier League fixture since then, scored three times and registered five assists in 13 top-flight appearances.
Those statistics are even more impressive when you realise Antonio has featured in four different starting positions in those matches – seven as a right wing-back or midfielder, four as centre forward, one as a second striker and the one as a left wing-back!
A determined and committed player, the 26-year-old never complains with his lot and always gives his all for the team.
As a result, he has become almost indispensable to manager Slaven Bilic, who has named him in his starting XI in 48 of West Ham's last 49 Premier League matches – a groin injury ruled him out of the London Stadium loss to the Gunners in December 2016.
Antonio's versatility, consistency and availability led to him passing the milestone of 50 Premier League appearances in Saturday's 2-2 Premier League draw with West Bromwich Albion – eight of which he started as a right-back.
In those half-century of appearances, the south Londoner has scored 16 goals and registered nine assists – including three for winning penalties which were then converted – meaning he has been directly involved in 25 of the 69 Premier League goals the Hammers have scored while he has been on the pitch.
So, with Southgate preparing to pick his first England squad of 2017, how do Antonio's goal and assist stats stack up against his compatriots? Pretty well, actually.
Only Dele Alli has totalled more goals plus assists (32) than Antonio's 25, but then the Tottenham Hotspur youngster has started just seven of his last 50 Premier League appearances in a wide position – all on the left side of midfield.
Barring injury, Alli, who has netted 20 goals and chalked up 12 assists in those games, will be in Southgate's squad – but what about the competition among England's other wingers?
Well, Liverpool's Adam Lallana became a regular under Roy Hodgson and started both matches under Southgate in November. He has eleven goals and 13 assists in his last 50 Premier League appearances, so 24 direct goal involvements in total.
Often used as a striker by Arsenal manager Arsene Wenger, Theo Walcott has 16 goals and six assists (22), while Manchester City's Raheem Sterling has registered 12 goals and eleven assists (23) in their last 50 top-flight matches.
Ross Barkley of Everton is the only other serious challenger numbers-wise, with nine goals and eleven assists (20) over the same span.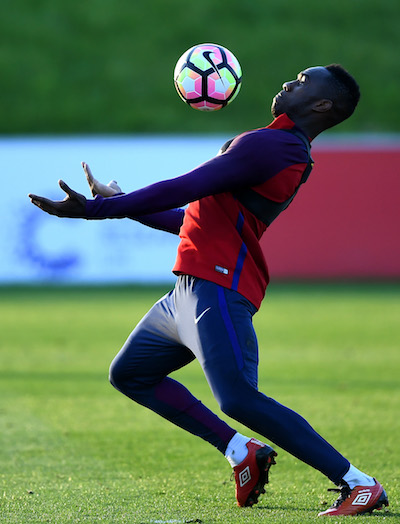 Among the other Englishmen regularly getting their boots covered in chalk are Alex Oxlade-Chamberlain of Arsenal (three goals and six assists) and Nathan Redmond of Southampton (five goals and two assists), but neither have statistics which stack up to Antonio's.
In case you were wondering, Manchester United youngster Jesse Lingard has played in the Premier League 39 times, scoring four goals and assisting three others.
Clearly even attacking wide players need to contribute more than just score and assist goals, but Antonio's work-rate, strength and aerial ability add plenty more strings to his footballing bow.
International players need to not only be outstanding ability-wise but, with the 'squad' nature of tournament football, also offer versatility and adaptability.
With those factors, and his outstanding statistics, in mind, there is a very good case for Gareth Southgate to name Michail Antonio as the first player (alphabetically) in his pride of Three Lions.