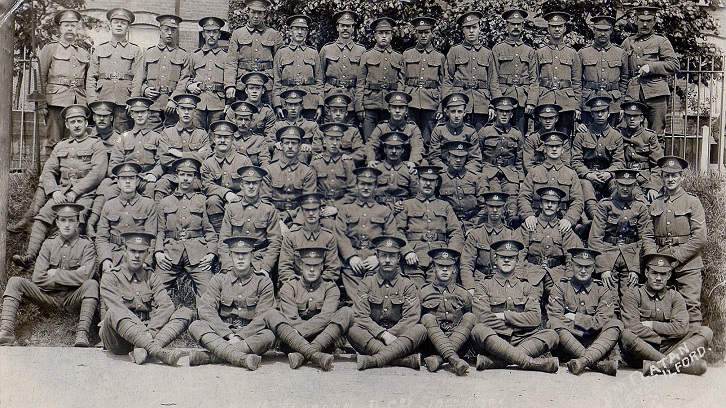 West Ham Pals were east London volunteers who went to fight for their country in First World War
Memorial unveiled to brave men at London Stadium ahead of West Bromwich Albion fixture
Author, historian and Hammer Elliott Taylor has written and campaigned tirelessly for the Pals
On Saturday at 1pm, at the London Stadium Store, we marked another milestone in the history of the 13th Battalion of the Essex Regiment, better known as the West Ham Pals.
The installation and unveiling of this new memorial at London Stadium today – paid for by West Ham United and kindly produced by funeral directors HL Hawes & Son of East London and Essex – underlines the traditional close connections to the local area like no other.
The plaque provides once again a place where the volunteers to the West Ham Battalion can be properly Remembered.
It may seem strange to hold the unveiling ceremony on a cold day in February, but it was felt the event required a date which held a significance for the Hammers Battalion.
On 7 February 1915, they mustered on their very first parade together. They had no uniforms. They had no rifles. But they each shared in a collective determination to answer the call to defend this country against aggression.
Men from a wide diversity of backgrounds, they would get to know each other very well over the coming months and years, eventually sharing in the horrors of industrialised warfare which sent more than half of them home with life changing injuries but which also killed more than a quarter of the original thousand volunteers.
And they were men like us, a broad mix of civilians with very little or no military experience alongside some old soldiers coming out of retirement to assist with training.
They came from across east London and a great many were West Ham United supporters – in fact the Battalion played several fund-raising and recruitment matches at the Boleyn against the Green Street Shopkeepers and the Band of the Thames Ironworks provided music for most of their important parades.
A few of the volunteers were very young men, 15 and 16 year olds, but it is worth pointing out that there were also a great many older men in the West Ham Battalion. The oldest I have found was a 48 year old Private. And being older, of course meant they were fathers. One soldier in the Battalion had a family of 20 children by the time he went to France. Perhaps he thought it might be quieter on the Western Front than at home.
They came from across east London and a great many were West Ham United supporters

Elliott Taylor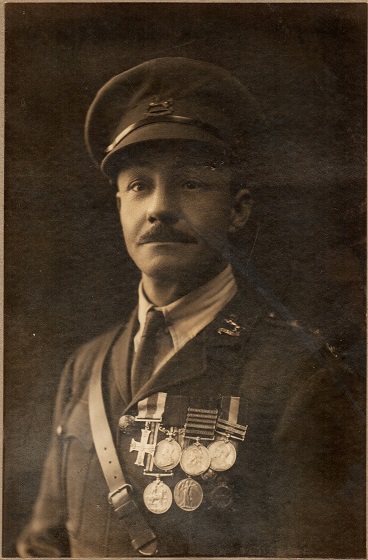 From that first parade on 7 February 1915, they shared the War side by side up until 10 February 1918, when they were disbanded in the field along with many other volunteer Battalions as the Army reshuffled itself in preparation of the final defeat of Germany. The Hammers were transferred to other units and sadly many of them would go on to be killed before Great War's end.
It was a similar story around the area of today's match opponents, West Bromwich Albion. There were three volunteer Battalions raised by the City of Birmingham for the Royal Warwickshire Regiment and known as The Birmingham Pals. They entered France just a few days after the West Ham Battalion, serving there before moving to the Italian Front.
And here we are today, 11 February 2017. The Essex Regiment no longer exists after it was amalgamated in the 1950s to become part of the Royal Anglian Regiment.
The British Army prides itself on its historical roots and sense of family and that is why they wanted to parade and be represented here today in the shape of the Royal Anglican Regiment.
And just like the West Ham Battalion a hundred years ago, all the men are volunteers giving valued service to our country – yet sadly so often in recent years, also giving their lives as the ultimate sacrifice.
Alongside them will stand Elaine New, the granddaughter of Captain Fred Bartley, DCM, MC, a West Ham Pal who lived his whole life in E13. Capt Bartley was awarded the West Ham Battalion's first Distinguished Conduct Medal for his part on a successful Trench Raid in July 1916. Fred would go on to be awarded the Military Cross in 1918.
Today, a century on, more than anything, is a commitment by the football club on behalf of us all that these men of the West Ham Battalion will be Remembered. We feel certain that Our Lads in the Hammers would have been very proud of this continued recognition and appreciation of their service a century ago.