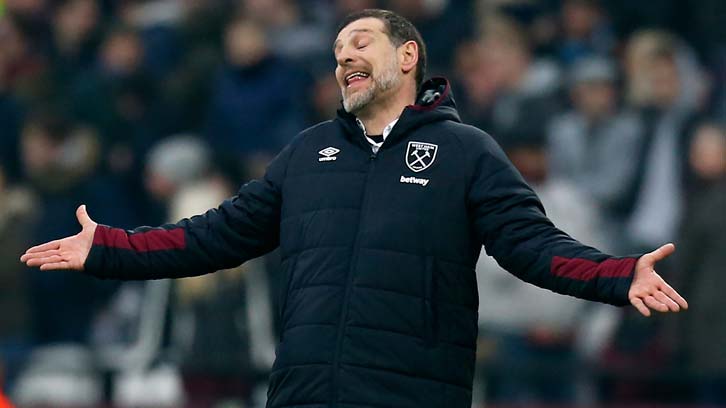 Slaven Bilic could not believe his team did not get the three points they deserved against West Bromwich Albion on Saturday.
Describing a performance he felt was among the best of his near-two years on the touchline with the Hammers, Bilic was sure they had turned a single goal deficit into a win thanks to goals from Sofiane Feghouli and Manuel Lanzini.
But then Jonny Evans' last-gasp header found the net – perhaps with a helping touch from his teammate Gareth McAuley – and those extra points had been ripped from his grasp.
Speaking at the final whistle, the boss couldn't quite believe it.
"To be fair we played fantastic," he said. "Even including last season, that was one of our best games.
"We were great as a team, as individuals also. We were very positive going forward with the ball, hurting them and also keeping the shape to stop them counter-attacking us.
"First half we conceded the early goal, but in the second half it was all us. It's not easy to turn the game around, especially against a team as solid as West Brom.
"We did it, and should have scored more, so to concede the equaliser in this way is very frustrating."
The Hammers had gripes about both a disallowed Feghouli goal in the opening period and Evans' leveller, but Bilic thought the hosts should have won anyway.
He continued: "We were on the wrong end of all the major decisions, and there were more than a few. First their goal, then the disallowed goal for us, a couple of penalty decisions, the last throw-in which led to their goal, then the goal itself.
"We go home tonight and instead of having three points and being so happy before this break, we now have a bitter feeling.
"West Brom have a good team, a very efficient team. We kept our shape – we scored enough really – and then the throw-in came that should have been our throw-in. It's hard."