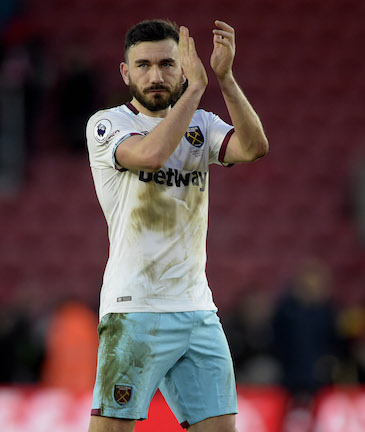 It will be a case of friends reunited when Robert Snodgrass lines up against West Brom at London Stadium on Saturday.
Snodgrass is in line to make his first start at London Stadium and has already made an impact following his move from Hull at the end of January.
The talented midfielder played a big role in helping the Hammers record a 3-1 win over Southampton as he helped set up Pedro Obiang for the crucial second goal.
Snodgrass is now looking forward to lining up against his former Hull team-mate Jake Livermore for the first time after he completed his move to West Brom last month and his Scotland team-mates Darren Fletcher and James Morrison.
The 29-year-old has special praise for Morrison who has got two goals in his last two games and knows will be a major threat to his side on Saturday.
Despite their friendship, Snodgrass hopes to earn the bragging rights over the trio at the final whistle and celebrate his first home win since joining West Ham.
Snodgrass said: "It will be very weird playing against Jake as it has not been that long since we last played together.
"It will be strange and they have also got a couple of the Scottish lads – Morrison and Fletcher and it will be good to come up against them but I want the three points for West Ham.
"They are both playing really well, especially James who is getting more of the headlines because he is scoring goals we so need to be fully aware of him because he is a good player, especially when he gets in the final third.
"But we have got players who can also cause problems and hopefully we can take our chances when they come.
"I want to get my first win at London Stadium because there has been a lot of talk about our home form and we need to get back to winning ways there."
The West Ham players are certainly full of confidence following their impressive victory at St Mary's Stadium which saw them move up to ninth in the table and are now just five points behind West Brom.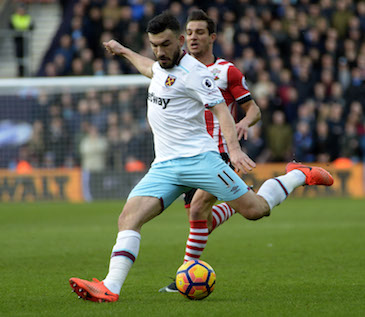 Snodgrass has nothing but praise for the way the whole squad has come together and showed the spirit needed to get their season back on track.
Snodgrass added: "It was good to obviously start the game against Southampton. I said when I signed that it was a great move and the Club has a great tradition. They are a great bunch of lads but the most important thing for me was to start playing and be part of a successful side.
"I was saying to the lads that when I played against West Ham a couple of months they were hovering just above relegation and I could not understand it, considering the success they had last year.
"I think you can now see the team spirit and all the lads have rallied together. That is how you are going to get results and move up the table. We believe we can go and win the game on Saturday with the confidence we are showing at the moment.
"It will be a tough game as it is never easy playing against a Tony Pulis team. I played against them when I was at Hull and we went 1-0 up and then lost the game 3-1. We know what to expect.
"They are a very good side with some very good players but so have we and we need to take our chances when they come like we did in the last game."
Snodgrass hopes to see another special atmosphere inside London Stadium on Saturday and has nothing but praise for how the Hammers fans have got behind the team.
"Our support at Southampton was fantastic and they are fanatical about their club. It is great to be a part of that and they are like the 12th man. They want to be entertained and they want the club to win."