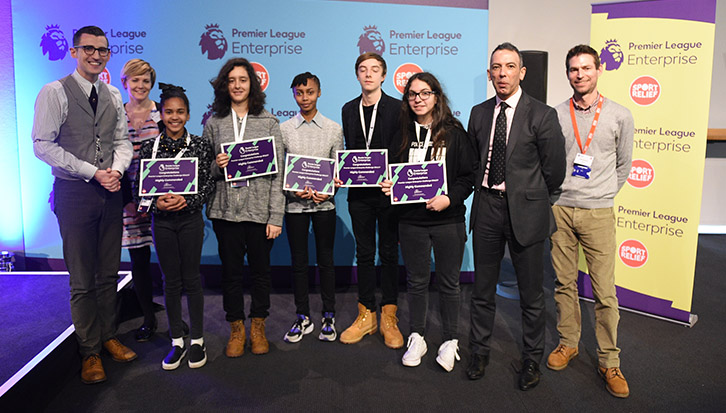 For the fourth consecutive year West Ham United Foundation will have a representative in the prestigious PL Enterprise finals, due to be held at Ernest and Young in March.
Having beaten off competition from Clubs including QPR, Norwich City, Crystal Palace and Fulham at last week's London based final, held at the Emirates Stadium, Wapping Irons, a team from Wapping High School, will now face the final panel of judges in a bid to be crowned PL Enterprise Challenge winners 2017.
The PL Enterprise Challenge is an annual event inviting Premier League and Football League Club community organisations delivering Premier League Enterprise initiatives to create competition between schools, community groups and young people in their communities. 
Wapping Irons, who won the West Ham United heats, beating last years Hammers finalists in the process, have been working with WHU Foundation staff to answer a challenge set by Premier League Chief Executive, Richard Scudamore. This seasons challenge is:
"You have been asked to create a plan to increase both your club's international fan base and it's income streams, specifically from the USA. Your fully costed proposal should consider how you can use your club's assets to generate interest and enthusiasm in the USA, how your club can engage fans in the USA via the club's digital channels, how your club can attract more American fans to travel to experience a live match in your stadium. The Board at your club is prepared to invest in the initiative but will want to see a return over a number of years. Your business plan should make it clear what the scale in the expected return will be."
Jolina Bradley, a member of the Wapping Irons team, said: "As a presenter, I had the opportunity to present what we had been practicing for months now and it was an experience like no other. I feel like the moment we stepped on the stage the experience had transformed from this small little project that we came up with in the classroom to this official presentation that felt very professional.
Jolina continued:  "In my opinion, the best part was getting feedback from the judges who are trained and experienced professionals which will really help us in the finals. There was this second when we had won of just utter realisation and I am still in shock if I'm honest! It was an amazing experience and I would recommend it to anybody! I gained confidence, speaking skills and team work most importantly."
The Challenge provides a fantastic opportunity for pupils to gain valuable work experience and develop skills in an exciting and alternative learning environment, as well as giving them the opportunity to learn about different aspects of West Ham United, including Marketing, Customer Service and Finance.