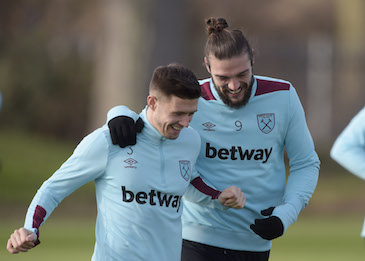 Aaron Cresswell has nothing but praise for the impact the supporters had on the team during the impressive 3-1 win over Southampton on Saturday.
Over three thousand Hammers fans made the trip down to the south coast and more than played their part as they helped inspire the team to another impressive away victory.
Cresswell is now hoping to experience another special atmosphere at London Stadium on Saturday when they face West Brom as they look to climb even higher up the Premier League table....
Aaron, it was a great victory over Southampton at the weekend. What do you the put the performance down to and how much credit should the players take for the way everyone has come together?
AC: "It was obviously a great win considering we had not won down there for a number of years.
"The way team came back from 1-0 down and it was a great finish from the lad, showed great togetherness. It was pleasing to see.
"Over the last few weeks I don't think we have had any choice but to come together and we have showed a great team spirit. Apart from the Manchester City game it is showing in our performances and we want to continue this run."
If you analyse the starting line-up there are a number of positives to take at the moment, with Jose Fonte and Robert Snodgrass coming into the team and Pedro Obiang scoring his first goal for the Club last weekend. How pleased were you to see Pedro get on the scoresheet?
AC: "Everything is coming together and someone like Pedro does not always get the recognition he deserves.
"He fully deserved his goal and the performances he has put in the season. He has been fantastic.
"I hope he continues this form as he is a great lad."
Andy Carroll got among the goals once again with another impressive finish. Do you feel like that he is unstoppable at the moment?
AC: "I saw an impressive stat the other day saying he has scored 20 goals in his last 33 starts and
I think any team in the Premier League would take that goals to games ratio.
"Andy has got four in four and hopefully he can continue this great run of form."
You know Andy so well. Have you sensed a change in him?
AC: "I have seen a change and his performances have been fantastic.
"He has been unlucky with injuries but we all hope he can stay fully fit now and get as many goals as he can for us.
"He is going into every game believing he can score and for any striker it is all about confidence. When you have that mindset that no-one is going to stop you it can only bring the best out of him.
"It is fantastic to see Andy when he has that belief and I really hope he can continue this."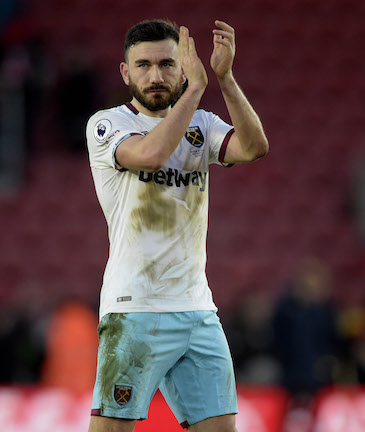 How pleasing is it to see new signing Robert Snodgrass settle straight into the squad and can you already see the quality that he will bring to the team over the coming weeks and months?
AC: "Snods has been fantastic since he came into the Club. It is not easy when you move from one end of the country to the other and he has pretty much gone straight into the side.
"He started on Saturday and played in front of me and has fitted in straight away with the other lads and is a great lad. His performance showed that."
You also have a new defensive partner in Jose Fonte. How much have you been impressed with his leadership qualities since he arrived at the Hammers?
AC: "It was always going to be a big day for him going back to his former club Southampton so quickly and it was tough for him, having spent such a long period down there.
"But he is another player who has settled in straight away and is a great leader and has a lot of experience.
"You could see straight away the leadership qualities he will bring into the squad and you get that feeling that he has the quality. He is a fantastic defender."
We now face another big game against West Brom on Saturday who sit just one place above us in the table. How much would we like to close the gap and set our sights even higher in the table?
AC: "They are just five points ahead of us in the table and I am sure they will want to stay in the top half but there are still 14 games to go and we want to get past them.
"We hope we can close the gap with a victory on Saturday. We have had a few good results this season when the crowd have really got behind us.
"It certainly helps when the crowd are behind you and it helps in our performance."
The away following at Southampton last weekend was very impressive. How much do the players recognise the fantastic support and how much would you love to see another special atmosphere inside London Stadium on Saturday?
AC: "We spoke about the great support from the fans after the game on Saturday and at times it felt like we were the home side.
"It can make a big difference and the fans were behind us for the whole 90 minutes. We hope we can keep giving them something to shout about.
"The atmosphere in the recent game against Crystal Palace was unbelievable and if we can replicate that every week it will be fantastic."