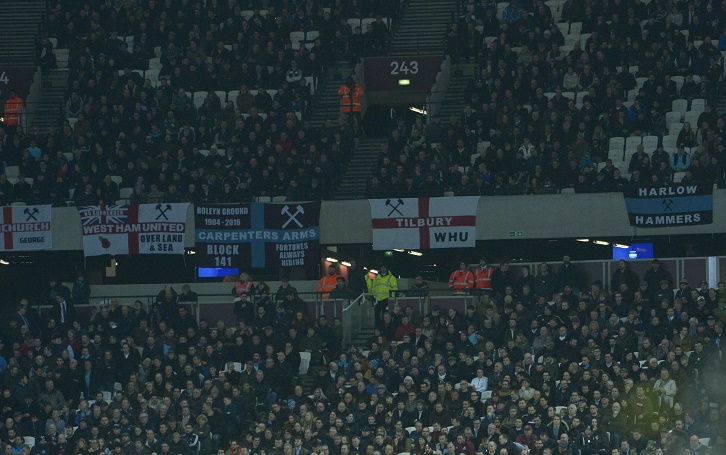 West Ham United flags were proudly displayed at London Stadium last night, thanks to the launch of another new supporter-led initiative.
The Club have encouraged fans to bring their large flags to the Manchester City game, which the Supporter services team will hang out before a match, take in afterwards, and then store safely at London Stadium between games. 
West Ham United want even more flags to be flying high at the next match against West Bromwich Albion to make the London Stadium a sea of claret and blue.
The initiative forms part of the Board's ongoing commitment to improving the matchday experience and ensuring supporters feel at home at London Stadium.
Recent innovations have included the introduction of Supporter Liaison Officers, with 30 assisting fans at Manchester City, and experienced stewards being positioned in the same areas to build a rapport with supporters.
While the result on the pitch last night may not have gone according to plan, it was another passionate and loyal display from the Hammers faithful, and further proof of the positive atmosphere that continues to develop in the Stadium.
Lee Vehit, a Season Ticket Holder in the Bobby Moore Stand lower tier, was one of the very first supporters to take advantage of the flag initiative and proudly saw his design hung in front of 57,000 fans last night.
Lee, from Chafford Hundred in Essex, said: "It's a great opportunity for us as fans to really make London Stadium feel like home.
"It's getting there already, but it's the little touches like this that will go a long way to helping supporters build their own personal relationships with the stadium."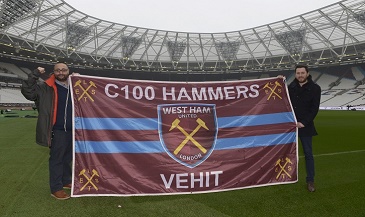 Revealing the story behind his own flag, Lee added: "As soon as I knew the new club badge was coming in, I approached a flag manufacturer and they produced the design for me. 
"Originally I'm from Forest Gate but, after starting a family, I moved out to Chafford Hundred in Essex.
"I attend matches with my son, Stanley, who is only three, and I have three or four really good friends who sit nearby - like me they transferred from the Bobby Moore lower at the Boleyn.
"My family name, home town and my son's initials are on flag, so it's really personal to me and it will be extra personal to see it displayed at London Stadium."
For Lee, matchday experience has even more personal meaning now that his family flag is displayed for all to see, and he insists that the positive vibes around London Stadium will only continue to grow.
"It's definitely getting there now," he says. "It was always going to take time but people are now more familiar with the Stadium - they are finding the best way to travel in, the best pubs to drink in, the best places to eat, which turnstiles to use.
"The results at the start of the season obviously made that transition more difficult but results and performances picked up recently and that has lifted the atmosphere.
"I'm confident it will continue to get better. It's a magnificent Stadium, there's no doubt about it. As fans, we've got to remember, it's our home now, and it's up to us to make it really feel like home.
"I think adding our flags to the stadium is another positive step towards that and I hope more and more supporters take advantage of the Club's offer."
To arrange to have your larger flag displayed, contact [email protected]amunited.co.uk at least 72 hours before the home match you are attending. To ensure flag designs meet stadium operator London Stadium 185's policy requirements, the following information is requested:
A picture of the flag you wish to display
Dimensions of the flag
Confirmation it is manufactured to British Standard and is flame retardant
Your Season Ticket seat number