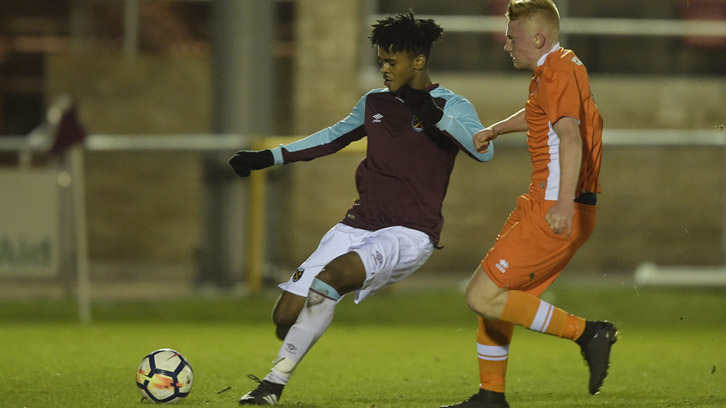 West Ham United's Academy of Football are delighted to announce the signing-on of nine players on full-time Scholarship deals.
A change in Premier League rules meant that the date by which clubs had to offer U16 players a Scholarship contract had this year been brought forward to 1 January where in previous years, clubs would not have to submit their lists until later in the month.
This campaign, players who have signed their Scholarship deals are: Keenan Appiah-Forson (central-midfield), Harrison Ashby (full-back/centre-back), Samuel Caiger (full-back/central-midfield), Daniel Chesters (central-midfield), Jake Giddings (central-midfield), William Greenidge (full-back/centre-back, pictured (right)), Samuel Nsumbu (centre-back), Joshua Okotcha (centre-back, pictured (left)) and Lennon Peake (winger).
Academy Director Terry Westley was delighted to get the boys signed on and believes there could be a number of Hammers stars for the future within the group.
He said: "I'd like to offer many congratulations to the all the boys as they take another exciting step on their career pathway.
"Thanks also goes to their families for their unerring support in helping them reach this stage.
"We look forward to welcoming these nine players into the world of professional football in July 2018 but before then, we as of them that they work hard to achieve their GCSEs and aspire to leave school knowing they have performed to their highest level.
"There are a number of very talented players at the Academy in the younger age-groups and I wish them all success as they progress to this next stage."
A number of the U16s have already begun to make their mark on the older age-groups at the Academy.
Will Greenidge and Josh Okotcha broke into the U18 squad earlier this campaign and their impressive performances for Steve Potts and Mark Phillips' side later earned them U23 appearances in the Premier League International Cup against Benfica.
Meanwhile, Daniel Chesters, Keenan Appiah-Forson, Sam Caiger and, most recently, Harrison Ashby all broke into the U18 side in the second half of 2017.