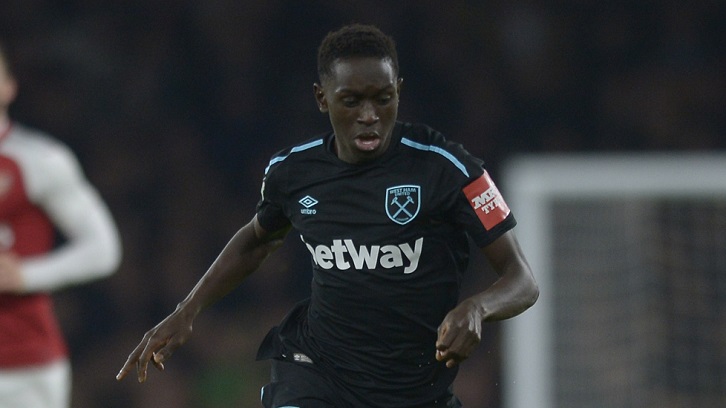 Domingos Quina wants a bite of the Premier League after tasting his maiden first-team start in Tuesday's Carabao Cup quarter-final at Arsenal.
The West Ham United teenager showed well in a central midfield role at the Emirates Stadium, despite ending up on the losing side.
The 18-year-old, who had previously made four substitute appearances in the UEFA Europa League and EFL Cup, said the backing he received from his teammates meant any nerves had disappeared well before kick-off.
"I found out in the meeting when the starting line-up was put on the screen and I saw my name!" he smiled. "I just thought 'Wow! What is happening?', but before the game I was relaxed and chilled and wasn't nervous or thinking about it being against Arsenal in a big stadium.
"I felt pretty comfortable, for my first start. I was saying to Declan before the game in the changing room, 'I don't know why I'm not feeling nervous. I'm too chilled'. He just said to me 'Go out and do your thing, like you do in training' and that's what I tried to do when I had the ball.
"Andre [Ayew] and Chicharito also said to me 'We know you have the quality to play here, so go out and enjoy yourself. You're here for a reason, so be responsible and do what you can' and I thought I did that.
"I just wanted to go out there and enjoy myself and, to be fair, I thought I did all right."
I'll be training hard to get the opportunity and be more involved in the games

Domingos Quina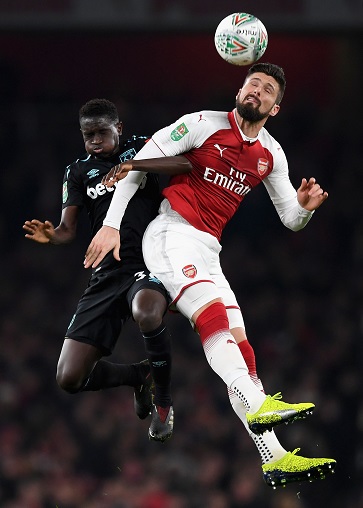 Quina is known more for his offensive talents than his defensive skills, but the teenager worked his socks off for his team in north London.
Playing on the left of a central midfield three alongside Declan Rice and Pedro Obiang, the Guinea Bissau-born youngster was disciplined in his positioning, elusive in his movement and incisive in his passing, particularly in combination with Arthur Masuaku.
"Because of the way the game went, we defended a lot and I was able to help out with that. I did what the manager wanted and what the team needed me to do, and I thought I did that.
"I did get to express myself and do my thing a little bit going forward, too, and I enjoyed combining with Arthur down the left a few times. I just tried to do what was best for the team, rather than what was best for myself.
"We were in the game and if we'd scored the first goal, we'd have won it. The goal Arsenal didn't score wasn't like they cut us apart to create it.
"We've just got to learn from it and move on."
Having won a UEFA European U17 Championship with Portugal and appeared in European and domestic cup competitions with the Hammers, Quina's next ambition is to make his first Premier League start.
"That's the big one! I don't know when it's going to happen, obviously, but I'll be ready for it. I'll be training hard to get the opportunity and be more involved in the games."