West Ham United Academy players made a difference at Christmas for struggling local families by donating an abundance of toys and gifts to the Salvation Army UK base in south London.
Youngsters Nathan Holland, Josh Pask, Mason Barrett, Ben Johnson, Noha Sylvestre and Odysseas Spyridis joined Academy Coach Mark Phillips and Lori Hedman-Nice, Player Care & Elite Performance Psychology Coach, in visiting the charity and to deliver the presents to their Elephant and Castle base.
The players orchestrated a collection between themselves before using the donated funds to purchase toys for the Salvation Army, who will gift them to local children who would otherwise not be in a position to receive presents this Christmas.
"Obviously, we're in a privileged position, playing for West Ham," Pask told whufc.com. "We're going to have our Christmas but there are people less privileged than us that see Christmas as a time where they are a bit sadder for whatever reason.
"We've brought a lot of presents to give to the kids who are not necessarily in a place to receive gifts like this. We are delighted to help out."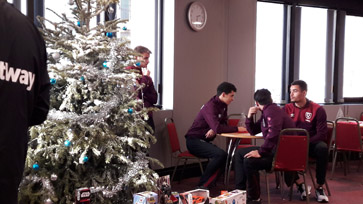 The players and coaches were greeted by the leader of the Salvation Army UK, Clive Adams, who praised the youngsters for their thoughtfulness and generosity during the festive period.
Adams was delighted to accept the toys on behalf of the organisation and said the impact on the receiving families could not be underestimated.
Adams said: "This kind of a gift is always welcome. From the Salvation Army's point of view, we are very grateful. Then of course, from the people that will actually be benefiting.
"The families, the parents, you can imagine how they are going to be feeling. The children, like any child, are going to be over the moon.
"I'm thrilled on many levels. It looks like the West Ham Academy focuses on a rounded way of developing the players. It's not all about football. You are growing good human beings and I want to commend West Ham for that."
Coach Phillips accompanied the Academy players on the visit and is happy to see their efforts going to help people in the local area.
Phillips added: "It's nice to hear the leader of the Salvation Army here say that the presents will go to local kids who wouldn't have got gifts otherwise.
"Our boys have chosen to give their money to children in less fortunate positions that themselves. I'm very proud of them."