West Ham United manager David Moyes was left disappointed as he admitted his side lacked quality in their 1-0 Carabao Cup defeat at Arsenal.
The Hammers travelled to the Emirates Stadium in the hope of securing a spot in the last-four of the competition but the cagey affair in north London was eventually won by the hosts.
Danny Welbeck scored the game's only goal, poking home a loose ball just before the break and Moyes' men failed to trouble Gunners goalkeeper David Ospina as they managed just one shot on goal.
After the Hammers' second successive quarter-final elimination in the competition, the boss expressed his frustration but claimed the focus always remained on the Premier League.
He said: "We tried to do all the right things and play with determination and shape, but what we lacked was quality but I have got to say we kept at it.
"We have played Arsenal in two games recently and lost one goal, and that was as bad as you can get in the way we conceded it. It wasn't what you would say was an Arsenal goal and maybe we could have defended it better.
"It was really poor, we should have done better with the first ball in and I'm hoping that one of the centre-backs clears it out when the header comes across.
"We have been defending well recently so I wasn't expecting it, that's for sure. Tonight we didn't play well enough but we were never out the game.
We tried to do all the right things and play with determination and shape, but what we lacked was quality but I have got to say we kept at it.

David Moyes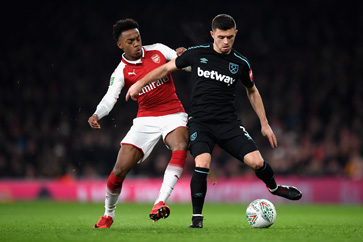 "I think when you get to this stage of a competition when you're West Ham, you would [like to field your strongest team]. But you look at Arsenal tonight, with a game on Friday, they changed their whole team.
"With our league position, on another day I may have done the same. Undoubtedly the Premier League is where you have to be. Everyone wants to win a cup, I'd love to, but ultimately all the talking at the end of the season will be about the Premier League."
The east Londoners had recorded three clean sheets in a row going into the clash against Arsene Wenger's men, who were held to a goalless draw at London Stadium less than a week ago.
And though that impressive streak was ended on Tuesday night, Moyes was pleased with the way his side defended nonetheless.
"I think we have been making progress and winning games and we've been well organised and hard to play against," he continued. "We showed that again tonight.
"But what we're seeing as we go along is the next step is adding quality. Tonight we were short on midfield players and generally we're short in that area and we could do with adding a little more craft.
"It's an area we're short at the moment. But January is never the easiest month to deal with. It was great young Dom played well and Declan Rice got a good game, so we have to develop our own players too.
"But we just lacked a bit of quality tonight at different times."