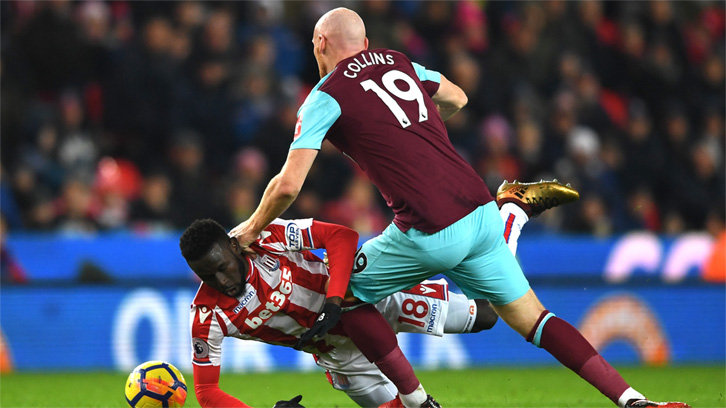 James Collins believes the confidence of West Ham United's back line is so high at the moment, they can keep a clean sheet against any side they face, providing they defend well.
The centre-back made his return to the Hammers' starting XI in their superb 3-0 victory at Stoke City on Saturday and starred alongside the likes of Angelo Ogbonna and Aaron Cresswell as the visitors kept their third consecutive clean sheet.
The previous two, against London giants Chelsea and Arsenal, had secured David Moyes' men four points and the side carried their confidence up to Staffordshire to comfortably beat Mark Hughes' team.
The three points at the Bet365 Stadium propelled West Ham up to 15th in the Premier League table, and the Ginger Pele believes his team can climb even higher with the current mood in the camp.
He said: "It was great for me to be back first of all, but to get the three points made it even better. The body's a bit sore now, mind!
"The win was deserved after the last few weeks of playing very well and defending well. Our confidence is high at the back.
"That's what clean sheets are all about, and if you play against anyone, if you defend well, we can keep a clean sheet.
"Adrian and the boys at the back, when I haven't been playing, have been superb and I've obviously slotted in and got another clean sheet, so that should be our basis for every game – a clean sheet – and we have goals in the team.
"We had a look at ourselves after the first ten games – I'd be angry at my son's U10 team if they conceded some of the goals we did.
"We knew we had to change and get back to the basics and defend well. We have done a lot of work on that, but the gaffer's come in and got us doing the basics against and we're getting the clean sheets.
That's what clean sheets are all about, confidence. If you play against anyone, if you defend well, we can keep a clean sheet

James Collins
"Going into these last games, people would probably have said we'd lose all four. To come away with seven points and play the way we have, with desire and urgency, is great. That's the minimum we need."
With the back three ahead of goalkeeper Adrian complimented by attacking wing-backs Arthur Masuaku and Pablo Zabaleta, the Hammers were a constant danger going forward at Stoke, while also staying solid at the back.
Marko Arnautovic hit the woodwork twice before scoring, Manuel Lanzini tested Jack Butland and sub Diafra Sakho spurned a good chance before grabbing a goal from the bench himself.
Going forward has never been the problem, according to experienced centre-back Collins, who was also delighted to make his return to the side after a couple of months' absence.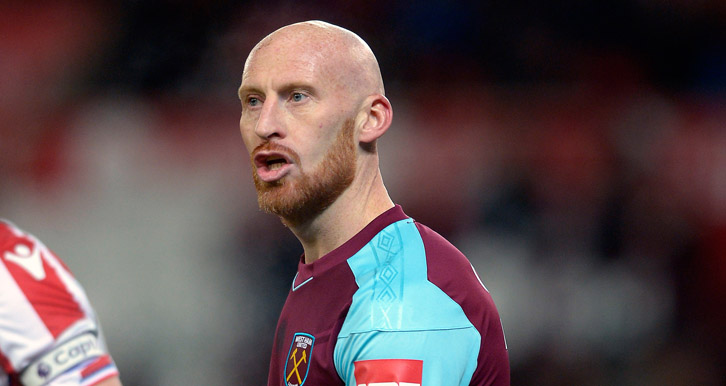 "If you look at the game, no disrespect to them, it probably should have been more, to be honest," he continued. "Arnie had a few chances and yeah, it was convincing in the end.
"Marko stood up to the fans; he's a top player. That's the way football is, you get stick at your old club but he's big and strong enough to take it. He could have got a few more on another day. He did well.
"Originally, I had the ankle injury up at West Brom, and then I had a niggle in my hamstring which I couldn't seem to shake off, but I've trained the last week and a half solidly, so I was ready to go and I full enjoyed it.
"You miss the aches and the pains on a Saturday night! Hopefully I can have that for most Saturdays this season.
"We have a big game on Saturday against Newcastle, and hopefully we can move right up the table."