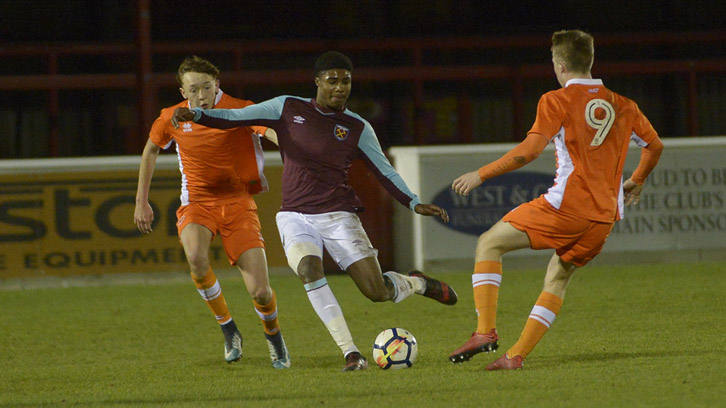 West Ham United's U18s were eliminated at the third round stage of the FA Youth Cup on Friday night when Blackpool were 1-0 winners in Dagenham.
A goal from substitute Emil Jaaskelainen – son of former Hammers stopper Jussi – was enough to separate the two sides and the hosts crashed out of the competition in their first tie for the fifth season running.
There was a frantic finale at the Chigwell Construction Stadium in which two penalties were awarded and a red card shown, but it was eventually a night that ended in disappointment for those in Claret and Blue.
But it was the hosts, starting the likes of U23 regulars Domingos Quina and Ben Johnson, who were dominant in the opening period.
A series of early set-pieces came to nothing but on 27 minutes, Steve Potts and Mark Phillips' side had their first shot in anger as Rosaire Longelo dragged his effort just wide.
The winger had another attempt on goal a minute later and came a touch closer, though Craig Thodarson in the Blackpool goal was not troubled.
Soon after, Bernardo Rosa collected Sean Adarkwa's pass inside the box and swivelled to shoot, but his smart attempt was collected easily by the visiting stopper.
Six minutes into the second period, with West Ham continuing to press, Quina was not too far away as he had a go from near the halfway line – something he is not new to having scored against Leicester City from distance last campaign – but this time his shot flew just over.
Hammers keeper Bobbie Biddle was called into action for the first time on the hour mark, tipping a fierce Rowan Roache strike over the bar, but Blackpool began to mount some pressure and it told with a quarter of an hour remaining.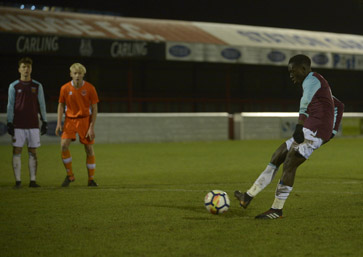 Josh Okotcha was caught in possession midway into his own half and Owen Watkinson, stealing it from the centre-back, did superbly to find sub Jasskelainen who tapped home easily from close range.
Potts and Phillips' men were forced to go in search of an equaliser hastily, and they had the opportunity to level the scores when the referee spotted a handball inside the box with eleven minutes left.
But Quina stepped up from 12 yards and was denied, Thodarson diving to his left to push the Portuguese midfielder's tame effort away.
There were yet more twists to the tale. Soon it was Blackpool's turn to try their luck from the spot – Ben Johnson tripped Watkinson and another penalty was awarded, but the visitors' Roache hit the crossbar and the advantage remained at just one goal.
Moments later, Alfie Lewis was sent off after an off-the-ball coming together in the middle of the park and despite West Ham's best efforts to take the game into extra-time, Blackpool – who will face Southampton in the fourth round – held on to advance in the Youth Cup.
West Ham United: Biddle, Johnson, Okotcha (E. Longelo 83), Wells, Hannam, Coventry, R. Longelo, Quina, Lewis, Rosa, Adarkwa.
Subs not used: Mingi, Forde, El Mhassani, Chesters.
Red cards: Lewis 90
Blackpool: Thodarson, Jacobson, Winstanley (Williams 84), Newton, Avon, Sumber, Adarkwa, Roache, Dunn (Jaaskelainen 67), Watkinson (Wainwright 90+1), Shaw.
Subs not used: Simson, Flynn.
Goals: Jaaskelainen 75
Bookings: Roache 69