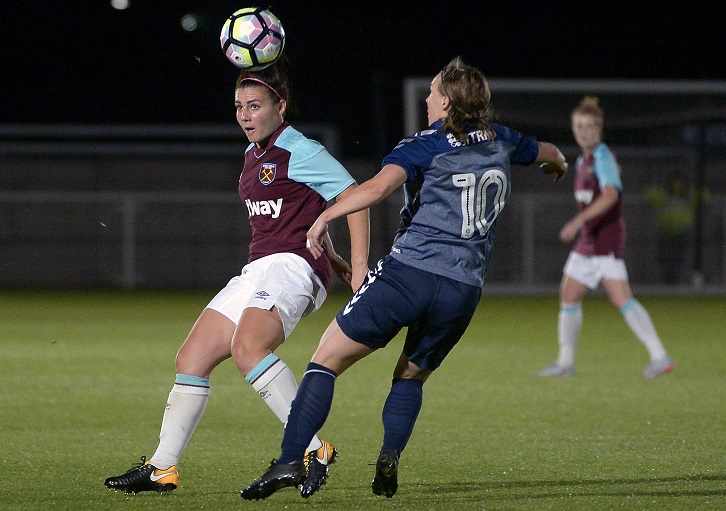 West Ham United Ladies will hope to continue their free-scoring ways when they face high-flying Crystal Palace at Rush Green on Sunday afternoon.
The Hammers smashed 13 past Margate in the Women's Cup, sponsored by goodmove.co.uk, quarter-finals on Tuesday evening.
Karen Ray's team will undoubtedly face a sterner test when they return to FA Women's Premier League Southern Division action this weekend, but West Ham will be boosted by the potential return of defender Leanne Mabey (pictured, above) after illness.
Mabey is back in full training after recovering from an alarming bout of vital meningitis which caused her to miss three months of action. Now, she could be included in Ray's squad for Sunday's final first-team fixture of 2017, which sees them host fourth-place Palace.
"It was tough time," she admitted. "We had a difficult game against Charlton and then the next day I was feeling under the weather. I took myself to hospital but, believe it or not, I was sent home.
"The day after I still was feeling even worse. I took myself back to hospital and this time they rushed me straight through into A&E. They conducted a few x-rays, a couple of CT scans and a lumbar puncture and I was told that I had viral meningitis.
"It's been tough. You're in here, around that team environment, but you can't actually help on the pitch. I've kept an eye on the results but it's difficult to not be able to be involved. I've had to be in the background and provide support, which I've done, but I'm ready to be back now."
I'm just eager to get back to action now. I want to be back on the pitch, helping my team

Leanne Mabey
Mabey, who captained the side earlier this season before her illness, has been all smiles since returning to training with her teammates. They, in turn, have warmly welcomed her back to the pitch.
"The guys at West Ham have been great. Everyone has been fantastic in terms of support and looking after me. I've been wrapped in cotton wool for a while, but I'm just eager to get back to action now. I want to be back on the pitch, helping my team."
The Ladies end their calendar year by taking on Crystal Palace in the FA Women's Premier League Southern Division this coming Sunday 17 December, with kick-off at Rush Green at 2pm.
Admission is free for Season Ticket Holders and Claret Members, while non-Member admission is priced at £2 for Adults and Free for U16s.