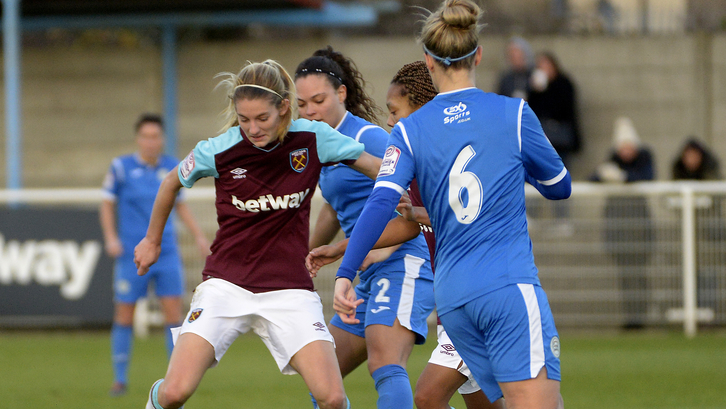 The infamous initiation ceremony of new players at new clubs, up and down the country, traditionally sees the new signing required to sing in front of their new comrades.
Yet Ellie Zoepfl, who moved to West Ham United Ladies after playing collegiate football for Virginia Tech Hokies and coaching at Heritage High School in Leesburg, Virginia, is yet to complete her task.
"They told me I was going to have to get up and sing, but it still hasn't happened!" midfielder Zoepfl admitted in her first interview since joining the Club. "I'm hoping they've forgotten about it to be honest. I'm a little nervous about that now. They might read this and remember…"
While Zoepfl is admittedly concerned about clearing her throat in front of her teammates, the new acquisition had no such hesitation when it came to making the switch to the Hammers.
The signing of Zoepfl coincided with two other additions – fellow American Zoe Swift and London Bees midfielder Andria Georgiou – as there Hammers boosted his squad for the remainder of the season.
It's been a really easy transition. I've been provided with so much support. I'm really enjoying my experience so far.

Ellie Zoepfl
And the 24-year-old has found the move to the FA Women's Premier League Southern Division a pleasant one so far, while the different style of football played on this side of the Atlantic has presented a welcome challenge.
"It's been a really easy transition. I've been provided with so much support. The other girls have been really welcoming which has made moving to the club so enjoyable. I'm really enjoying my experience here so far.
"It's a different style of football to what I was used to back in America. I think, while football is football, the game back in the USA is focused on athletic ability, how fast you are, and those sorts of qualities. Over here though it's more focused on technical ability. I'm liking that aspect and I'm enjoying the competition so far."
Having played in just a handful of matches for the Irons so far, Zoepfl has made an immediate impact on the home fans at Rush Green, most notably when she netted an excellent half-volley from the edge of the box against C&K Basildon.
Despite that goal coming in a 7-3 defeat, Zoepfl was delighted to register her first effort for the Hammers.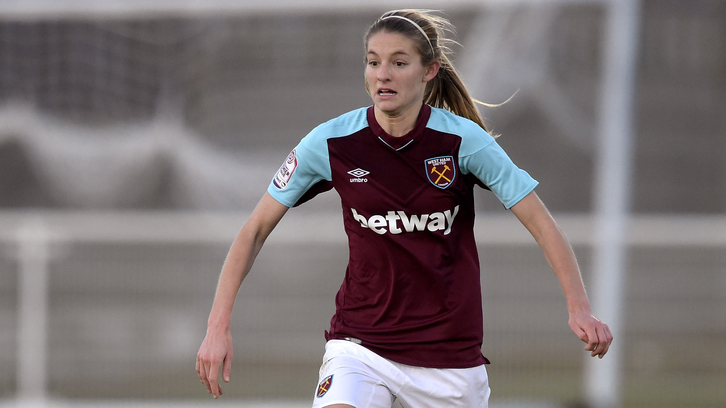 "It was a relief to get my first goal. It was a good finish. I was delighted with it and I'm hoping to score even more."
In that game Zoepfl featured in the middle of the park, but already she has cropped up in different roles for her new team. Moving around the pitch is no bother to the recent signing, however.
"I will play whatever position the manager wants me to play. I think I can play a variety of different positions. I can play on the wing or midfield. Wherever they want me to play I'll give 100 per cent.
"I just want to grow as a player and West Ham is giving me an amazing platform to do that."