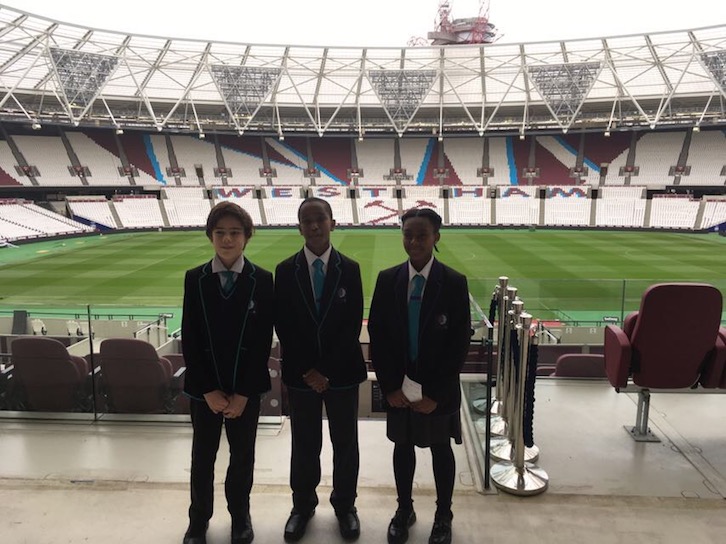 Keith Sebastian, Yasir Ahmed and Anayah Francis from School 21
School 21, based in Stratford, have won the opportunity to represent West Ham United at the regional Premier League Enterprise Challenge Play-Offs at Leicester City's King Power Stadium in January 2018.
Pupils from School 21 were victorious at the Challenge Play-Off at London Stadium on Thursday 7 December, beating off competition from 6 other schools to win the chance to represent the Hammers next year.
The Premier League Enterprise Challenge, is the national competition element of the Premier League's enterprise programme which began in 2009 and which is run in partnership with Sport Relief. The Challenge sees Year 9 and 10 students set a football business-related task by Premier League Executive Chairman Richard Scudamore, which this season asked groups to come up with initiatives to encourage diversity and make going to a match the most enjoyable experience.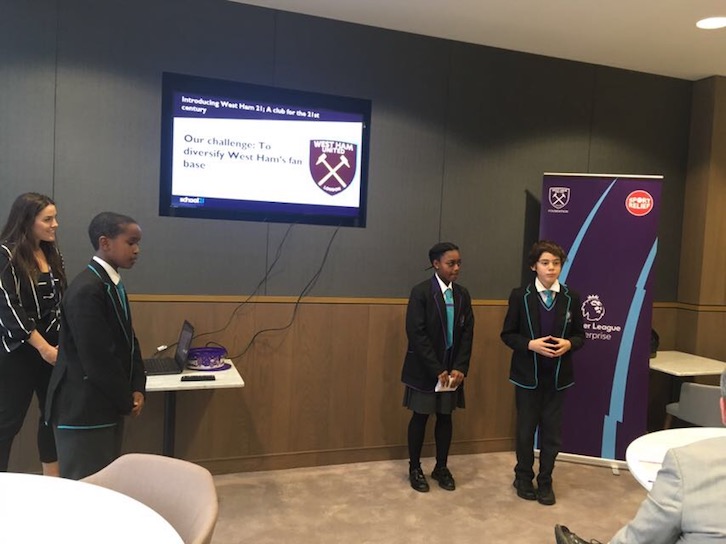 32 Premier League and English Football League clubs have entered this year's Challenge and will be represented at six Play-Off events in January. These Play-Offs will be taking place at Liverpool FC's Stadium, Anfield, the King Power Stadium, home of Leicester City FC and St. Mary's Stadium, Southampton FC's ground.
Keith Sebastian, one of the successful pupils from School 21, told whufc.com, "We had prepared for this day for quite a while, and practiced really hard, but we never dreamed of winning it! It has been fantastic to be a part of the Enterprise programme, and we can't wait to go to Leicester and compete in the next round."
Jesse Foyle, Head of Learning at the West Ham United Foundation, said "I was extremely impressed with the sheer level of quality and effort from all the schools who were involved in the day. Some of their presentations were thought-provoking and all the kids had clearly put lots of work in to it!
"School 21 were deserving winners, having shown the judges an innovative and unique approach to tackling the challenge they were set with. I wish them all the best in the next round of the competition!"