David Moyes was in a positive frame of mind as he spoke to the press ahead of Saturday's lunchtime derby with Premier League champions Chelsea at London Stadium.
The West Ham United manager says his improving team need to turn performances into points if they are to start climbing the table before the busy Christmas and New Year period.
However, the Scot knows his players will not only need to hit top form, but also maintain their tactical discipline to stop Antonio Conte's star-studded side. Here is what he had to say…
We need to turn performances into points
I think we played well at Manchester City last Sunday, despite the fact we lost 2-1. I thought we were good without the ball and when we got the ball we were OK. I'd like us to be much better when we get the ball as well, but hopefully in time we can work towards that.
Ultimately, we need to stop conceding goals. We fielded a little bit of a patched-up defence last week, so I hope when we get some of the senior players back it will give us an even better chance.
I'm very confident that we've got a good squad and a good group of players, but we have to make sure we win the games, though. Having good performances tends to lead to good results but, ultimately, we need to get some of those good results.
I think the senior players know what's at stake and I think they know now that we'll give them every opportunity but they have to show us when they get the chance. If not, then we'll play other people.
Champions Chelsea are hitting their stride
How Chelsea played last year in winning the Premier League was fantastic and they've got numerous good players.
They made a slow start to this season and that might have just caught them out a little bit as Manchester City have been so strong from day one, but I think Chelsea are a match for any team in the Premier League on their day. They proved it last year and I think they're probably doing it a bit more now as well.
Tactically, I would have to say Manchester City play with two high and wide wingers in Leroy Sane and Raheem Sterling, but Chelsea don't. They play with three at the back and two wing-backs and one forward and Eden Hazard dropped in behind.
That change means we can't set up the same, but we need a similar performance to get ourselves a result. Tactically, we'll have to be slightly different to give ourselves a chance.
I want to try to cause Chelsea some problems if we can, but obviously I need to consider people like Hazard, Fabregas and Morata are capable of if we don't deal with them well enough as well.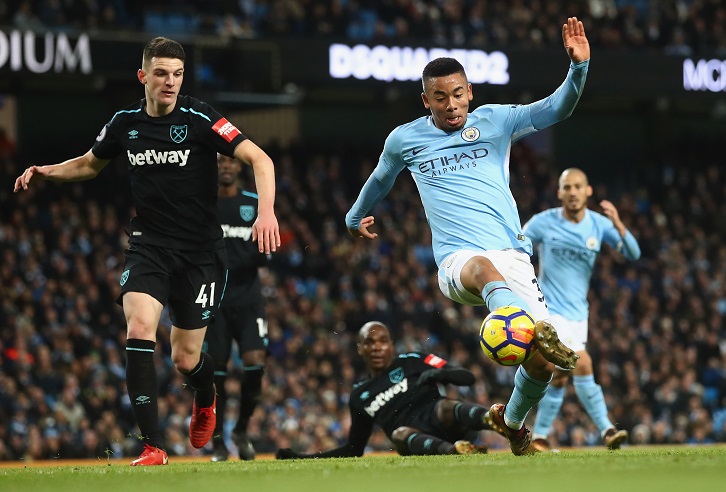 Young Dec is still learning his trade
I thought Declan Rice did really well last week, but I spoke to him and I also thought that on the second goal his level of concentration could have been better.
But, as a manager, playing young centre-halves these days has probably become more difficult in the Premier League than playing a young goalkeeper or a young centre forward, because the quality your up against means it's some task.
I said to him that a good sign is that you're not noticed as a centre-half, because it's when you start getting noticed too much that maybe you're making mistakes. I was questioning if he should have done better on the second goal and he knows he should have and we do as well.
Declan is the one who is looking as if he could force his way into the first team, but unfortunately he has had flu all week this week and been off for about three days, so that just makes him a little bit of a doubt. He's done a bit of training on Friday and his performance overall last week was good.
The supporters will support – that's what they do!
West Ham United supporters will get behind the team on Saturday because that's what West Ham United supporters do.
I wouldn't expect anything else and, in the position we're in, they know how much we need them.
We'll try and do everything we can to give them something to shout about but also I hope understand the realistic challenge we have got against a team such as Chelsea as well.