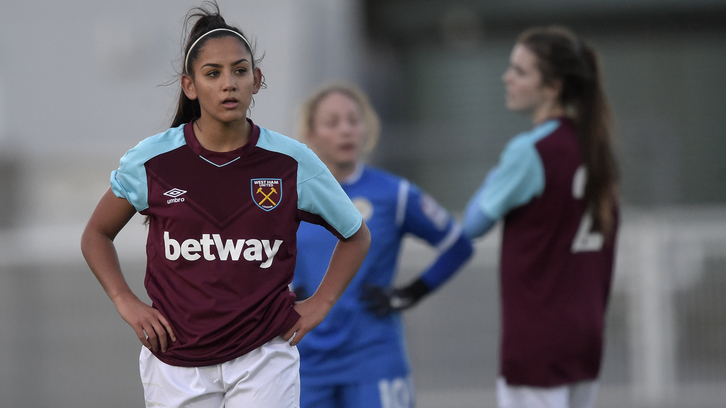 A string of excellent goals from Coventry United handed West Ham United Ladies a disappointing 6-1 defeat in the second round of the Women's FA Cup.
Having gone behind after a quarter of an hour to a decent shot from Gauntlett, West Ham were level after the half-time whistle as Chenise Austin netted from the penalty spot.
Despite pressing forward and creating a number of chances Gred de Carnys's side were unable to deal with Coventry's quality going forward, with the home side netting a series of shots from distance from Wilcox and Dermody.
It was the home side that enjoyed the best of the opening chances with Sindi Kanto forced to make a stop from a free-kick before Mollie Kmita blocked a shot on the line.
And Coventry made their early pressure pay with an excellent effort on 15 minutes, as Gauntlett curled home a shot from distance into the top corner.
The Hammers came close to a response just a few minutes later as Dayna Chong tested Sue Wood with a powerful effort from the edge of the area, as did Rosie Kmita.
West Ham found a way back into the contest after half-time after Ellie Zoepfl was fouled in the penalty box. The spot-kick was expertly converted by Austin to level the tie.
However, Coventry's lead was restored not long later. A well-placed through ball found Davies, who squeezed her shot home to put the home side 2-1 up.
Kanto was called into action to stop a decent shot from Dermody, but the goalkeeper could do little to halt Hall from netting from close range.
The scoreline was made 4-1 a short time later as Wilcox netted a dipping effort from distance, which found the top corner, before Dermody added her second with a shot that deceived Kanto.
Laura Cooper added another long-ranged finish to complete the score-line and hand the Hammers another heavy defeat.
West Ham United: Kanto, Cooper, Wheeler, R Kmita, Chong, Stobbs, Burr, M Kmita, Zoepfl, Austin, Swift
Subs: Mackie, Auguste, Wealthall, Peters, Georgiou
Coventry United: Wood, Brook, Miles, Cooper, Wilcox, Haigh, Davies, Dermody, Hall, Gauntlett, Hughes
Subs: Buck, Turner, Jerrim, McDonnell, Steele