David Moyes was delighted with his West Ham United side's battling performance in the 2-1 defeat at Manchester City, and believes his team were unlucky to not leave the Etihad Stadium with at least a point.
A goal from Angelo Ogbonna had put the Hammers in front at half-time but second half finishes from Nicolas Otamendi and David Silva earned a 13th successive league win for Pep Guardiola's table toppers.
Despite the defeat there were a number of positives to take from Sunday's contest, not least of which the performance and spirit shown by West Ham – something that Moyes noted following the game.
The manager reckons that the effort his Irons showed was worthy of at least a point and that West Ham's showing was worth a positive result.
"I think the performance was very good," Moyes hailed.  "I think, if we had come away with something today, nobody would have been surprised by it. I felt, on another day, it might have just gone our way.
I think the performance was very good. It was a really good effort. I thought we deserved to equalise.

David Moyes
"It was a really good effort. Some of the games we've had this season, I don't think we've been as good as that. We defended much better today and we're going to have to defend better throughout the season.
"I thought we deserved to equalise. You can't argue, what City's pressure was. You get results in football in different ways, and it looked as though we may have got one in a different way today."
Moyes mixed up his team selection and tactics for Sunday's game, operating with three central defenders in Ogbonna, Declan Rice and Aaron Cresswell.
The West Ham boss revealed that his side only really had one day to prepare for the City clash, having played Everton in midweek, and Moyes was happy with how his players took to the game plan.
"We've worked a bit on it," Moyes said, when asked about West Ham's shape. "We had one day really where we could prepare. We tried to have a bit of a game plan to stop them as much as we could. Their pressure made that change actually, after about 20 minutes.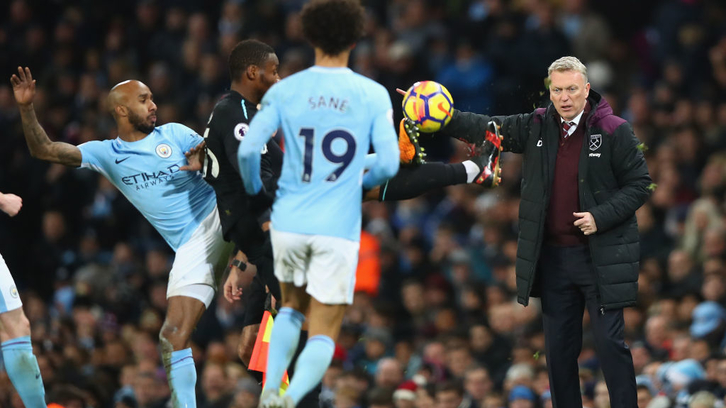 "Arguably we might have had the best chances in the first half and we defended well. I thought the players did a really good job. I thought City's shots were mainly from distance. Most of their shots were from outside the box and we filled the box and made it difficult for them to score.
"I have to say that we did a really good job and might have had the better opportunities in the first half, and then what a chance we had to make it 2-2 late on."
The manager was thrilled with the way his side carried themselves against Manchester City, saying that the effort showed on Sunday is now the minimum expected of the side, and that this level of performance will also be required in coming matches with Arsenal and Chelsea.
Moyes continued: "I think the effort today was top. If you're going to have a chance in any of the big games we've got then today would be the minimum, to give yourselves a chance. At least for long parts of the game we were in with a chance of getting the result. We've got to do that in the coming games.
"We want to play better. We want to win the games. If we can get the energy levels up like we did today then we've got a chance."