West Ham United's recent visit to Cheltenham Town provided George Davies with one final opportunity to see his Claret and Blue heroes in action.
Lifelong Hammer George moved from East Ham to the Gloucestershire town five years ago with wife Margaret to be closer to his two daughters and four grandchildren, bringing 45 years as a Boleyn Ground Season Ticket Holder to an close.
Tragically, George was diagnosed with terminal bowel cancer a year ago. With his health deteriorating, the prospect of watching West Ham live one final time appeared increasingly remote – until the Carabao Cup second-round draw was made. With London Stadium unavailable, the tie was switched to Whaddon Road, just a mile-and-a-half from the 82-year-old's home.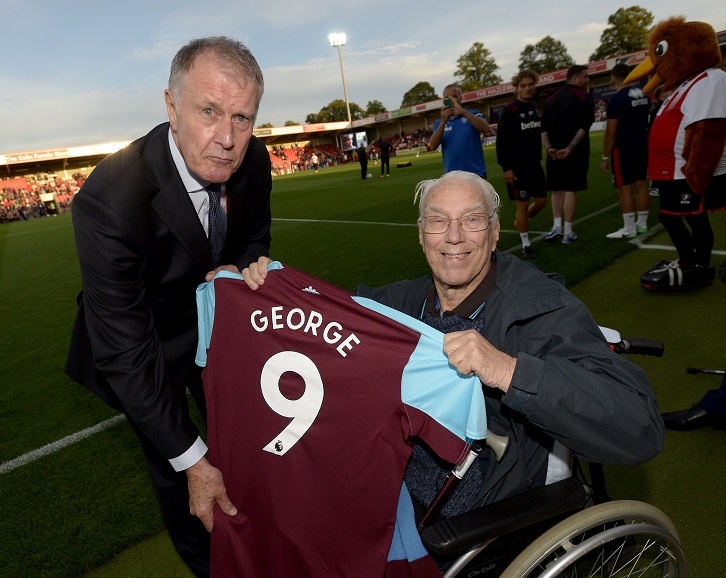 The Club provided wheelchair-bound George and his close friend Dave Pulsford with two tickets for the tie, enabling the former Port of London Authority clerk to cheer on Slaven Bilic's side on a warm and sunny evening in the Cotswolds.
To make his evening extra special, George was also presented with a personalised Home shirt by Hammers and England legend and fellow Cheltenham resident Sir Geoff Hurst.
For a man who attended the Football League War Cup final victory over Blackburn Rovers at Wembley in 1940 and took his future wife on the couple's first date just hours after watching the 1964 FA Cup final, meeting Sir Geoff and seeing the Hammers one final time provided one final memory to cherish.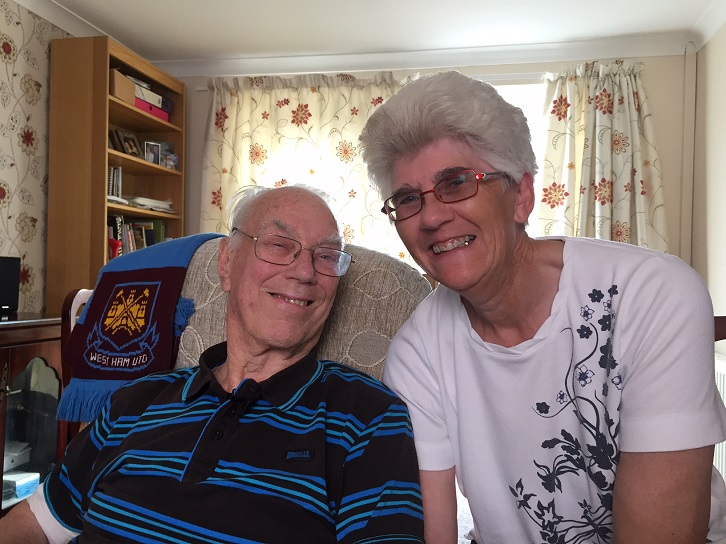 "We had known each other but that night was our first date," recalled George, who named Billy Bonds, Bobby Moore, John Smith, Ray Stewart, Paolo Di Canio and Hurst as his all-time favourite players. "We had won the FA Cup for the first time against Preston North End, so that was the best day of my life!
"Sadly, when I took our daughters to see a game, it didn't work out so well. I took them to a match against Chelsea to see if I could convince them to come with me regularly, but they sat in the middle of the stand and were cheering on Chelsea, which was a right embarrassment!"
Forty years on and George now watches his beloved Hammers regularly on television and is forecasting a 'top-half' Premier League finish this season, despite West Ham's slow start.
"I am absolutely thrilled to see the team, I really am," he smiled. "It's an emotional game for me and I'll be more than cut up when I see it.
"It's going to be the last one I see because my cancer is so advanced. I was given 18 months and that was a year ago. I just hope to see this season out."