When the going gets tough, the tough get going, and there are not many footballers with a tougher character than Joe Hart.
As England's No1 goalkeeper for nearly a decade and a two-time Premier League champion, Hart has spent his entire career under the most intense of spotlights.
For that reason, while he is honest enough to admit that West Ham United have started the season poorly, he is experienced enough to know that the Hammers still have ample opportunity put things right. To do so, though, Hart says they need to ignore any external pressures and look within.
We do appreciate the fans and there is only one way to show our appreciation and one thing they really care about and it's not us clapping them but getting results for them

Joe Hart
"It's been a frustrating start to the season and we've only really got ourselves to blame, so we'll have to get together as a team, as a unit, and put this right because it's not good enough," he said, following Saturday's 3-0 defeat at Newcastle United.
"We're going to put our finger on it, but it's that important and that serious that I think we should out our finger on it as a group and as a team. It's not about talking now, but about actions.
"We need to get this international break out of the way. The lads who are going away need to go away, enjoy their football and come back, and the boys who are still here need to get ready for Huddersfield."
Hart is one of a host of seasoned, senior internationals in the West Ham dressing room, including a number of national-team captains.
And when times are hard, as they unmistakably are at present, he knows that those sensible and mature heads will be needed to eradicate the factors which have led to three straight defeats to start what was hoped would be a successful season.
"Unfortunately, we're going to have to do that [press the reset button and pick up points from 35 games rather than 38], because we've got no other choice," he observed.
"We're not going to panic because it's three games in, but it's hard to look at the bigger picture when you're so emotional and so raw.
"I've been in situations like this before and I've been in a lot better ones and you need to stay level-headed, organised and you need to keep the belief in each other, have it out in any which way you need to have it out, and all pull in the same direction."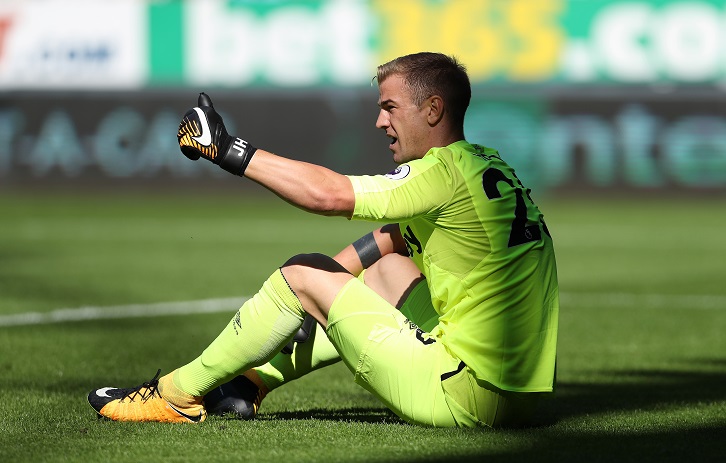 Hart's last but not least words were saved for the Claret and Blue Army, who have travelled nearly 1,000 miles to Manchester, Southampton and Newcastle for very little reward.
"We have phenomenal support," said the stopper, who made a number of impressive saves at St James' Park. "To ask them to do four away games in the first month and for it to not go exactly how we wanted it to, rightfully a few of them told us to do one and that's their right.
"I'm always grateful for any support. I know it costs a lot of money and emotion to be a supporter of a football club.
"Emotionally it's taxing and financially it's taxing, so we can give them a little clap and whatever, but we've got to take the tough stuff [when we don't produce the desired results]. We do appreciate the fans and there is only one way to show our appreciation and one thing they really care about and it's not us clapping them but getting results for them."