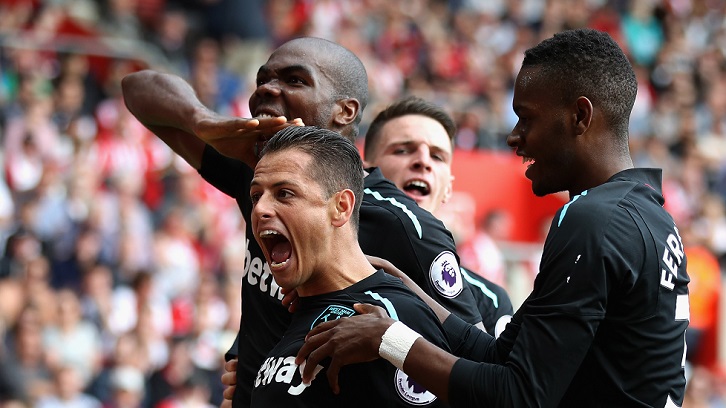 Angelo Ogbonna has expressed his admiration for Chicharito after West Ham United's courageous 3-2 Premier League defeat at Southampton.
The Hammers were reduced to ten men and fell 2-0 down at St Mary's Stadium before roaring back into the game courtesy of two goals from the Mexico striker.
However, a controversial late penalty denied Ogbonna and company a point and left them bottom of the table after two matches.
"At the end it was so disappointing, but I am also very proud of the team because we played really good with ten men," said the Italian, who was drafted into the starting XI just moments before kick-off after Winston Reid suffered a calf injury in the warm-up.
"It was a huge effort. We showed our character out there. We wanted to do better than last week when we played away at Manchester United and conceded four goals. We said we cannot give up this game and we have to show that we are not lazy on the pitch.
"We wanted to do our best even though we were playing away and show that this is a new season and at the end, we just thought 'Oh my God'. We didn't expect that."
Chicharito has shown his character a lot and he won't give up. He is really important for us

Angelo Ogbonna
While the Hammers lamented their luck on the south coast, there were plenty of reasons to be optimistic ahead of Saturday's trip to winless Newcastle United.
Chicharito was outstanding and scored two trademark goals, while Declan Rice continued to build his reputation with another assured display in central midfield.
"It is not just Chicharito [who played really well], I think Rice as well," the No21 observed. "The first game was a really good test for him. Chicharito has shown his character a lot and he won't give up. He is really important for us.
"There are a lot of positive things to come out of this game. I thought we played better than them definitely and were down by one man for 60 minutes."
While West Ham looked threatening in front of goal, scoring twice and having eight shots on target, the Hammers conceded three goals, including two penalties.
Slaven Bilic's side have now conceded seven goals in two matches, but Ogbonna does not believe the team have underlying defensive issues, and is optimistic they can keep a clean sheet at St James' Park.
"This is the Premier League," he said. "Everyone is scared because we conceded four goals to Manchested United, but on Saturday they did the same to Swansea.
"I think it is the high level of the league with a lot of good players. Manchester United can lose the next game and we can win at Newcastle United."