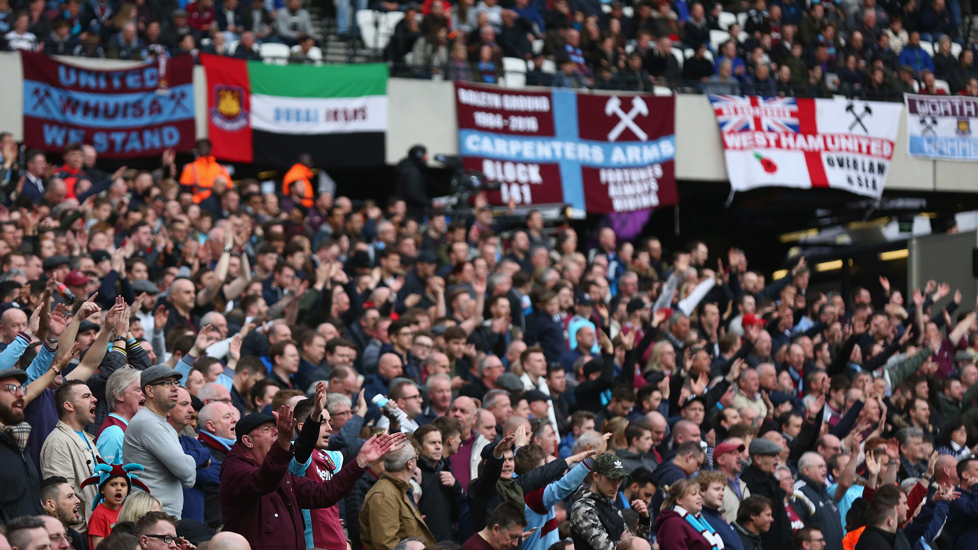 West Ham United are delighted to confirm that our opening home match of the 2017/18 Premier League season has sold out.
With three weeks remaining until newly-promoted Huddersfield Town visit London Stadium on Monday 11 September, all available seats have been snapped up by Claret Members.
The news comes a month after the full allocation of 52,000 Season Tickets – the highest number in London - sold out, with supporters on the Waiting List rushing to claim the seats available after a record renewal rate of 90% at the end of May.
Hammers fans have yet again shown their incredible support to ensure that Slaven Bilic's men will walk out to a packed house against the Terriers, when new signings Joe Hart, Pablo Zabaleta and Javier Hernandez are set to perform at their new home for the first time.
Hernandez admits he can't wait to step out in front of 57,000 fans at London Stadium, and has already been hugely impressed by the devotion and loyalty of the Hammers fans.
"It is incredible that the first home game is sold out," said Chicharito. "I knew before I arrived here that the West Ham supporters were very passionate and loyal but now I can really see just how special they are.
"One of the main attractions in signing for West Ham was the thought of walking out in front of nearly 60,000 people at a magnificent stadium, and I can't wait to experience that for the first time.
"For us as players, it is a wonderful feeling to know that we have such great support behind us, and it gives us great confidence at the start of the season." 
Manager Bilic added: "Of course, it is fantastic that we have already sold out the first home game against Huddersfield, but it doesn't surprise me.
"Our supporters are a unique group, they hold a special bond with the team and I have always felt that – during my time here as a player and throughout the last two years as manager.  
"When we really needed them last season, they were there to push us on, and already they are showing that they are going to be fully behind us once again when we kick off the new campaign.
"On behalf of my players and my staff, I would like to say thank you again to the fans for the backing and the support they give us.
"It is a huge motivation for us as we prepare for the start of the new season on Sunday, and we are all determined to repay them with success and some fantastic memories at London Stadium this season."
For any supporters looking to secure access to home tickets this season without a Season Ticket, the best way is to become a Claret Member. Only two Premier League games last season reached General Sale, so becoming a Claret Member really is the best way to ensure you are able to secure a seat for games at London Stadium.
Membership is priced at just £40 adults and £25 under-16s and entitles you to priority on home tickets, access to our ticket exchange, a £5 discount on official away coach travel, access to exclusive events, retail offers throughout the season and a unique gift pack. 
However, our patient supporters on the Waiting List can take advantage of a £10 discount on Membership if signing up before 8 September – the only to guarantee an opportunity to watch the excitement at London Stadium this season!
For more information, or to sign up today, please click here.
If you missed out on a ticket for Huddersfield, you will still have the opportunity to be there to watch our exciting new signings Chicharito, Pablo Zabaleta and Joe Hart on home turf for the first time as the Ticket Exchange is now open.
Tickets will become available to purchase as Season Ticket Holders who can't attend relist their seats, giving other supporters the chance to see the Hammers in action while earning Club Cash towards future ticketing purchases themselves. Claret Members can now purchase from the Ticket Exchange.
Furthermore, as the Hammers' first home match of the new campaign falls on a Monday evening, supporters will be able to upgrade Junior Season Tickets for Adult tickets at a discounted rate. Click here for full information.
A limited number of tickets for the unmissable London derby against Tottenham Hotspur are still available for Claret Members. Hurry to secure yours now! Click here to purchase.