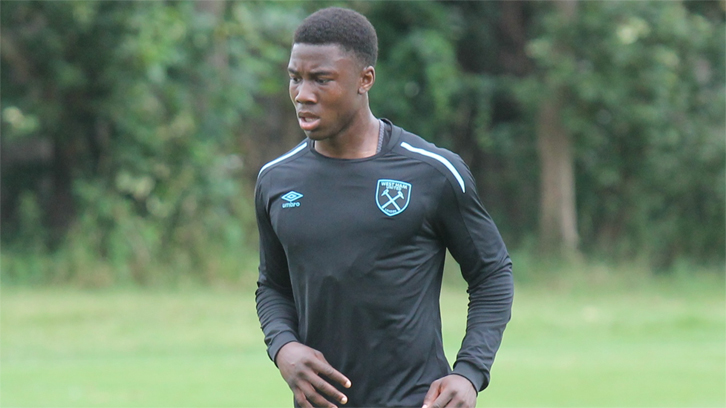 Young midfielder Korrey Henry believes the U18s need some time to gel as a team before they reach their top levels in the Premier League U18 South division this campaign.
The young Hammers take on Southampton – like Slaven Bilic's senior team – this weekend and will be hoping to bounce back after opening day disappointment at Brighton and Hove Albion.
Steve Potts and Mark Phillips' men were beaten 3-1 on the south coast, though Henry did bag the visitors' goal, heading home from a set piece, and almost added a second when he crashed against the post from 25 yards.
The Saints travel to Little Heath for an 11am kick-off, and Henry is hoping his squad can come together as one to get off the marks in terms of points.
He said: "Of course it is a big game for us this week to try and get our season going after losing the first game.
"Brighton was obviously our first game with a new team gelling together, but I've got no doubt that we can put a good performance in on Saturday and get the win.
"Off the pitch, we are a very close bunch and we obviously all know each other very well. I don't think there will be any problems with that transferring to the pitch; sometimes it takes a little bit of time, but I think that will happen very soon and we will gel.
"I think we know what to expect from Southampton. I think they'll go long a lot of the time and be quite physical. That's another thing we're going to just have to prepare for and be together as a team for it."
The midfielder made his first competitive appearance for the Premier League 2 U23 outfit against Everton last week after impressing in the U18s throughout last campaign, scoring eleven times.
And the 17-year-old is hoping for a big season on a personal level this campaign.
He continued: "I always set myself big goals and I'm hoping to have a successful season this year. My goals are to be in the U23s this season, but obviously when I'm with the U18s I'll always do my best.
"Last season, I played all over the pitch, but I've always been a deeper player rather than an attacker, but I'd say I'm versatile as well, so if I'm needed to play on the wing, up front, or wherever I'm asked. I don't see that as a bad thing, I love doing my best in any position.
"Double figures is my target this season in terms of goals – last season I scored eleven so I want to break that this year, and hopefully get at least 15!"