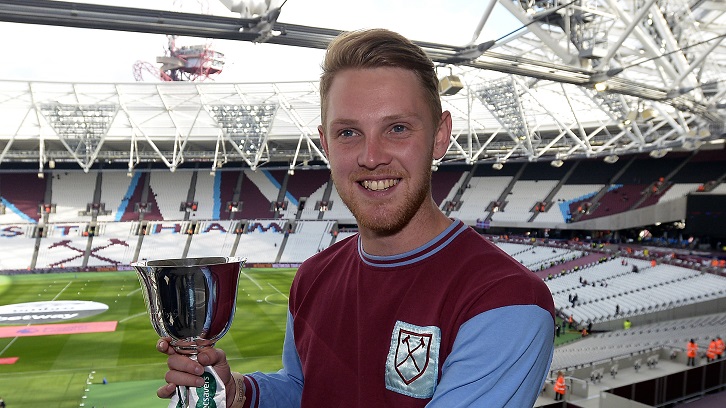 The Claret and Blue Army has one of English sport's rising stars among its ranks.
It is less than three years since Jamie Porter bowled his first ball in an Essex Cricket shirt, but the 24-year-old is now being widely tipped to become the county's latest England international.
Born just two stops down the Central line in Leytonstone, Porter's wickets have also put Essex on course to win their first County Championship title since the year the Premier League was born, 1992.
He is also a proud and lifelong West Ham United fan.
"I was born into a West Ham family raised in Ilford, so I had no option but to be a Hammer," smiled the seamer, whose Essex side face two make-or-break T20 Blast fixtures with Kent and Sussex this week. "My Dad and Grandad would not have been too pleased if I had supported anyone else.
"I am told the first thing I ever wore were West Ham baby clothes, which I left the hospital in!"
While his promise on the cricket field meant he was always more likely to bowl a ball than kick it, Porter's family ensured young Jamie also enjoyed plenty of football as a youngster.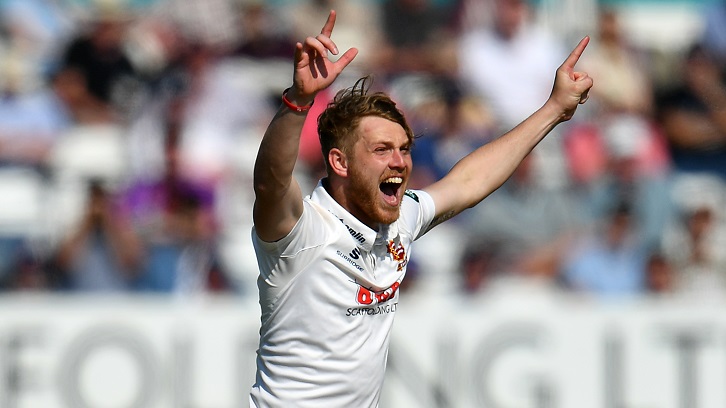 "My Dad is a Season Ticket Holder and I go to as many games as I can with him, but obviously with playing cricket all year round these days, it's not as often as I would like," he confirmed.
"My favourite game? I remember seeing us beat Liverpool in the last season at Upton Park in the FA Cup, that really sticks out in my memory."
Porter is not the only Hammer associated with Essex Cricket, either. Wicketkeeper Adam Wheater is also a fan, as is legendary batsman and captain Graham Gooch, while Sir Geoff Hurst even played a Championship game for the county in 1962.
"There are quite a few football fans in the dressing room, to be fair," Porter revealed, "although most of them support Manchester United, Spurs or Arsenal.
"I am flying the flag, though, and I always try to catch the matches on my iPad or phone in the dressing room when we are on TV. I remember we were playing during the Play-Off final back in 2012 and I somehow managed to turn my ankle…"
The 2017 season has been a hugely successful one for Essex and Porter – so far. They sit 41 points clear at the top of County Championship Division One, with just five matches remaining, with Porter's 40 wickets making him the fourth most-successful bowler in the top flight.
"It's a big thing doing what I have done this season on a bigger stage," he said, with deserving pride. "I have just tried to keep doing what I have done in the last few years and to be consistent."
Cricket is probably more of a level playing field than football – so Essex winning the title would be a little less impressive than Leicester City winning the Premier League!

Jamie Porter
That approach has worked not only for Porter, but for his teammates too, and he now believes Essex are 'well set' to win Division One.
To put that in context, Essex were considered 16/1 outsiders to win the title in April, but now their odds have shortened to 1/6.
Just once previously since cricket's County Championship split into two divisions in 2000 has a club been promoted from Division Two and gone on to be crowned Division One champions the following year – Nottinghamshire in 2004 and 2005.
So, just how big a sporting upset would it be if Essex were crowned County Champions next month?
"Cricket is probably more of a level playing field than football in that players are probably paid the same at every club, but the difference is that bigger clubs can afford to pay more players in the top bracket – so Essex winning the title would be a little less impressive than Leicester City winning the Premier League!" Porter explained.
"That said, it's been a long time since a club from a non-Test county won the Championship, although Somerset went close last year. It's a nice feeling to know we could be just the second team to come up and win the title straight away.
"To win Division Two and Division One back to back would be pretty special."
Naturally, everyone at West Ham United wishes Jamie and Essex all the best in their pursuit of what would be, to steal his own word, a truly special achievement.