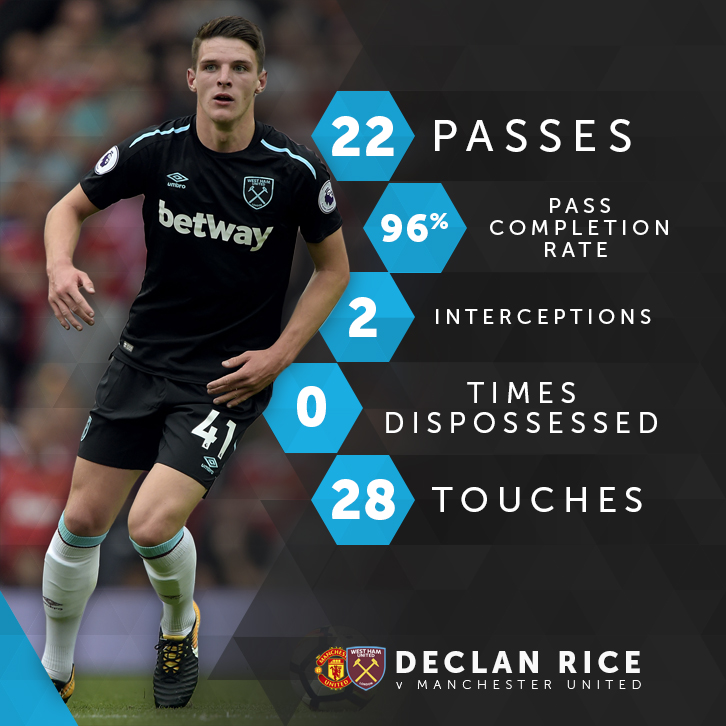 Seconds after replacing captain Mark Noble at Old Trafford on Sunday, Declan Rice collected a short free-kick from Arthur Masuaku, turned and completed a square ball to Winston Reid.
Over the next half-hour, the 18-year-old would misplace just one of the 23 passes he attempted, ending his second Premier League appearance with a completion rate of 95.7%.
Moments later, the Hammers won a corner. When Manchester United cleared the ball up field to the lightning-quick Marcus Rashford, it was Rice who raced back 60 yards to hold up the England forward on the edge of the Hammers penalty area.
Despite his relative inexperience, Slaven Bilic handed the U23 captain a central midfield position alongside Pedro Obiang, where his positional sense and willingness to organise those around him were very much in evidence.
The Republic of Ireland U19 international touched the ball 28 times in total and, despite being matched against established internationals Paul Pogba and Nemanja Matic, was not dispossessed once.
Rice's game awareness and versatility also saw him fill in for Pablo Zabaleta or Arthur Masuaku when the full-backs had joined the attack.
The interceptor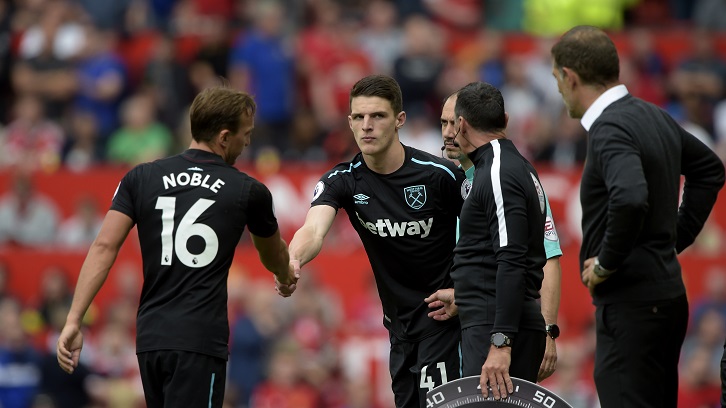 The Academy graduate does not mind putting his foot in either, as was illustrated by his interception of France international Pogba's pass and follow-up challenge on the Red Devils' towering centre-back Eric Bailly. He later made another timely interception to dispossess Serbia star Matic wide on the right touchline.
As the game wore on, the No41 continued make intelligent angles to receive the ball and move it on quickly and accurately.
Rice popped passes around the Old Trafford pitch, seemingly unaffected by playing in front of a 74,928-strong crowd, the vast majority of whom wanted him to misplace every one of them.
Instead, the composed youngster showed off his ability to pass with both feet, including one incisive ball into Chicharito and two accurate cross field deliveries to Masuaku and Aaron Cresswell.
A valuable experience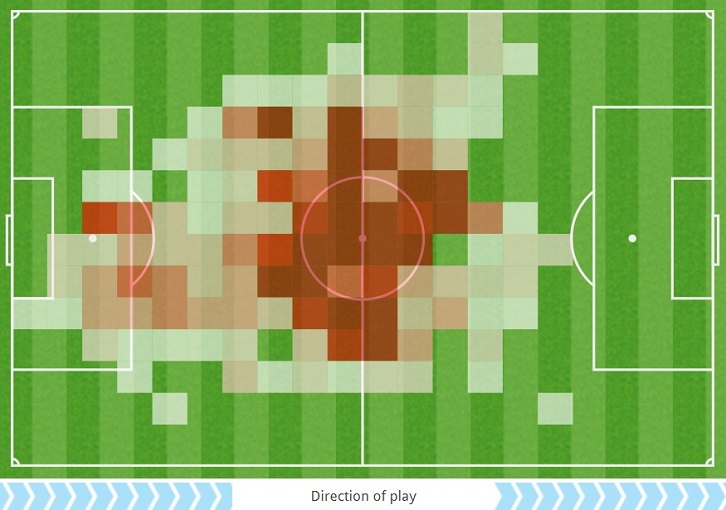 As Rice's heatmap shows, he got around the pitch too, covering 3.89km at an average speed of 7.08km/h – second only to Noble's average of 7.45km/h. Extrapolated over a full 90 minutes, Rice would have expected to cover in excess of 11km, a distance only exceeded by opposite number Matic.
While the overall picture was a positive one, there was still one sharp dose of reality for Rice late on as Pogba escaped his attention for a split second to score Manchester United's fourth and final goal.
Even then, the teenager's maturity shone through in his post-match interview, when he vowed to learn from the experience of playing – and playing well – on English football's biggest stage.
He will surely have plenty of opportunities to do so again in the future.