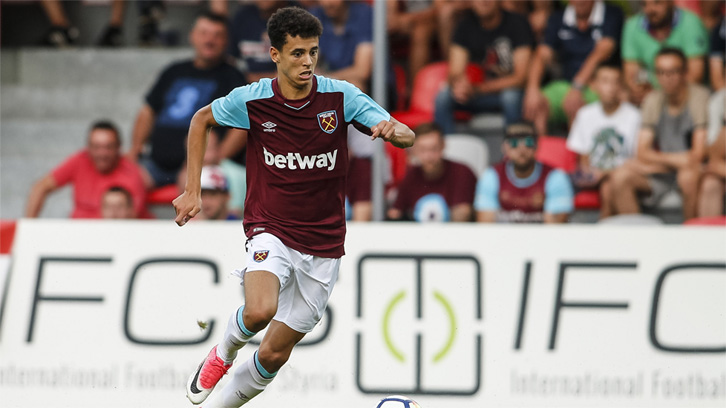 Nathan Holland is looking forward to catching up with old friends on Friday when the Hammers' PL2 side face his old club Everton, but ultimately is focused on winning the season opener.
The exciting winger left the Merseysiders for West Ham United midway through last season and impressed for Terry Westley's U23s, scoring a number of goals which saw him train with the first team regularly.
Everton were crowned Premier League 2 Division 1 champions last season, while the Hammers are new to the top flight this term having been promoted via the play-offs in May.
And Holland hopes the team can carry on that momentum when they face his old team at the Chigwell Construction Stadium.
He said: "It will be great to play against my old club, and it's the first game of the season so we're raring to go.
"We've just been promoted and Everton won the league so it will be really good to see where we stand. Overall though, everyone is just really looking forward to it.
"It will be good to see all the boys in that Everton team who I know very well. They work hard, they're a good team and they have a lot of quality. I think we're a very good team too though and I'm sure if we turn up, it will be a great game.
We've just been promoted and Everton won the league so it will be really good to see where we stand

Nathan Holland
"The confidence in our team is high after last season, though. We want to continue with the momentum from last year. I know I've obviously been with the first team this pre-season but the lads have done well this summer and they've played some good teams."
As the winger highlighted, this pre-season has seen him team-up with Slaven Bilic's squad for trips to Austria, Germany and Iceland.
The teenager ended up playing a part in all of the Hammers' fixtures and was pleased with the progress he made on tour.
"I think everyone's been happy with how I've adapted, training with the first team this summer and I've been happy with how I've made an impact in the games," the youngster continued. "That's brought confidence and more minutes on the pitch and hopefully I can just get better and better.
"I think you just have to take that in your stride. We went away all together and you get on with it and try and do your best. Everyone made me feel welcome and it was a great experience.
"Hopefully I have and we've come out stronger at the end of that pre-season, and I'm looking forward to us getting back to Dagenham and showing everyone what we can do."