Opinion
Chicharito 'has football in the blood going back generations'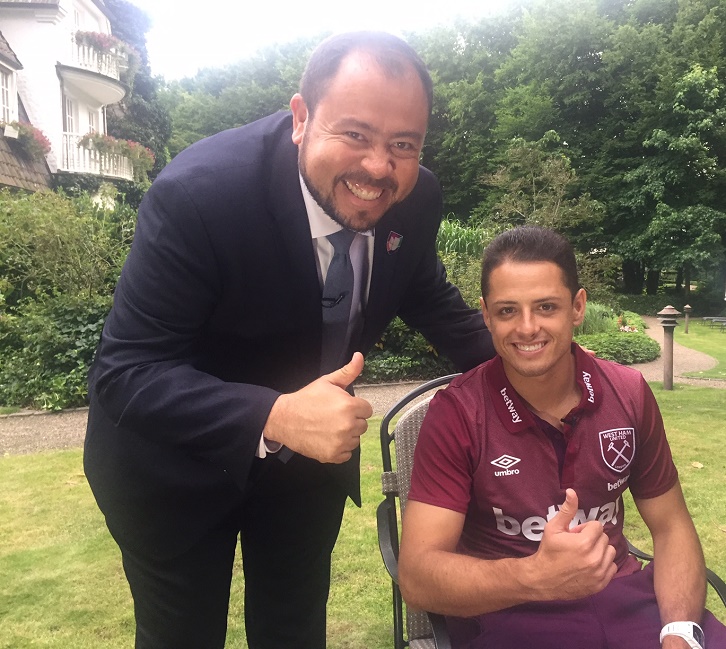 Raul Guzman is a correspondent for Univision Deportes, the Spanish language American sports channel which focuses the majority of its coverage on football.
Univision screens Mexican league, MLS and CONCACAF Champions League matches in the United States, while also following the fortunes of Mexican players plying their trade outside North America.
For that reason, Guzman has been a regular fixture at West Ham United's pre-season training, where he has reported on and interviewed Hammers new boy Chicharito. Here, he shares his thoughts on the impact of the Mexico superstar's transfer to east London…
We are following Javier Hernandez since he is a big star in Mexico and in the United States of America. A lot of people in both countries follow Chicharito everywhere – to Manchester United, to Leverkusen, to Real Madrid and now to West Ham United. A lot of people are watching your club in Mexico and America.
Chicharito has a special place in history. He's the best scorer in the history of the national team of Mexico, so he is at the top level.
Even when we had a huge star like Hugo Sanchez back in the 1980s, who was the top scorer in Europe at the time, he is no longer the leading scorer for the national team because Chicharito is top of the list.
Also, I think he has a charm with the people. He is a nice guy and a good boy and is so professional. I think that's why the people in Mexico and America love him, because he is not only a very good player with good skills, but he is also a good human being. He is the kind of player you would want your children to follow.
This club has a romantic scent and people are going to follow and fall in love with West Ham, I am sure…

Raul Guzman
Chicharito's family has a long history in football. His grandfather Tomás Balcázar was a very good player for Chivas Guadalajara, the most important and most successful club in Mexico, and with the Mexican national team in the 1960s.
His father also played with the Mexican national team and three or four top-level teams but, in his family, Chicharito is the biggest star!
Chicharito has football in the blood going back generations. He not only has skills and love for the sport, but he has human values like professionalism and he has grown up with a soccer ball and the good advice of two big men, which have kept his feet on the ground.
I can see big qualities in Javier and those are the reasons he is going to fit very well into the West Ham United team.
First, he is hungry and he never stops. He is the kind of player a teammate can find annoying because he never stops running in the training sessions, which can make it busy!
He is energetic and always hyperactive. He cannot stop and he cannot be on the ground without moving. That's one of the biggest skills in his football. He is not only a striker, but he is always moving, which is a headache for defenders, because you never know what he is going to do, so it's very hard to keep close to him.
Javier is a jersey-seller and has been wherever he has played, so I think West Ham need to be prepared to sell a lot of journeys in Mexico! I hope you have enough to send there, because people want to have the West Ham shirt because of Chicharito.
I am sure they will also fall in love with this team because of their history and their spirit, even if they are not the most-successful. This club has a romantic scent and people are going to follow and fall in love with West Ham, I am sure…
The opinions expressed in this article are those of the author and not necessarily those of West Ham United.