Chicharito says he is '100 per cent fit and ready' to make his West Ham United debut at Manchester United on Sunday.
By a quirk of the fixture computer, West Ham kick-off the 2017/18 Premier League season at Old Trafford, the stadium where the No17 spent four seasons as a Red Devil between 2010-15.
And the Mexico striker has been training daily since joining the Hammers a fortnight ago, improving his fitness and developing a chemistry with his new teammates ahead of what he admits will be an emotional return to Salford.
"I'm very happy and very glad at the prospect of playing my first game for West Ham on Sunday," he began. "It's the best way for me to come back to the Premier League and to a country which gave me my first chapter and first four years in Europe.
"It's going to be the best way to start this Premier League season if we get a good result over there, obviously, because that's the main goal in my mind and for everyone in this Club, to get a very good and very important result.
"I feel I am ready and 100 per cent fit. I've been training pretty well with the lads and the decision stands with my manager, with my boss. The only thing I can say is that I am ready and if I am picked to start, I am ready and I am glad."
I'm very happy and very glad at the prospect of playing my first game for West Ham on Sunday

Chicharito
Chicharito refused to speculate on whether he is a better centre forward now than the one who left Manchester United for Bayer Leverkusen two summers ago, instead insisting that his only focus is on repaying the faith put in him by his new employers.
"That's something I can't describe, but rather something I can only prove inside the pitch, which is where I prefer to speak!" he explained. "In May, we can see how my season went and we can answer that question.
"The only thing in my mind here is to obey the ideas that the manager has for me and for the team and deliver that confidence that he has in me.
"My mind is completely at West Ham. Right now, I'm a Hammer, I'm a West Ham player and I want to do even better than I did in Manchester and then we'll see what happens in this season."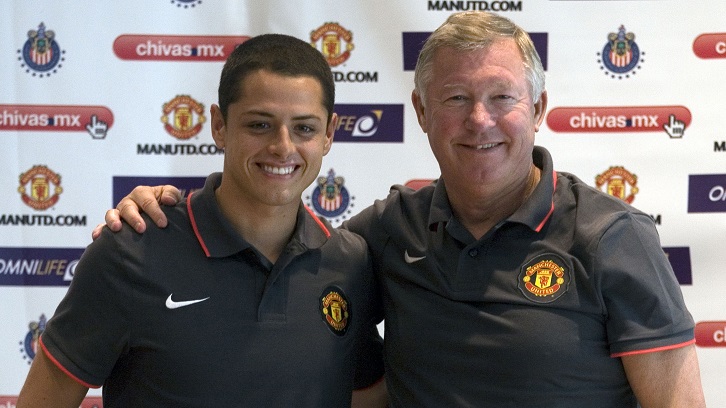 Speaking of managers who had confidence in him, Chicharito is hoping to bump into the man who brought him to the Premier League for the first time seven years ago – Sir Alex Ferguson.
"I didn't speak to him before I moved to West Ham and I don't know if he will text me before the game on Sunday, but hopefully I can see him if he goes to watch the game!" he smiled.
*You can follow West Ham United's opening Premier League game of the 2017/18 season live on whufc.com from 3pm on Sunday 13 August.