Jamboo will take part in his first major eSports tournament representing West Ham United this Saturday when he attempts to qualify for the FIFA Interactive World Cup.
24 players from 19 professional football Clubs will take part in this weekend's inaugural FIFA Interactive Club World Cup in London, with the prize for the winner a place in the main Championships which start on 16 August.
This qualifying tournament is open only to professional football clubs who have eSports FIFA players and is the final opportunity for one of the remaining players to feature in the showpiece event.
"It's by far the biggest tournament I've ever been in" Jamboo explained.
"I've been putting in a lot practice and time in to making sure I'm at my best. Hopefully, with a bit of luck I can get the result I am looking for."
"For the last few weeks, I have been playing all of the major midweek tournaments, I've been back on the weekend league and so all in all, I have been training for at least four or five hours a day on FIFA."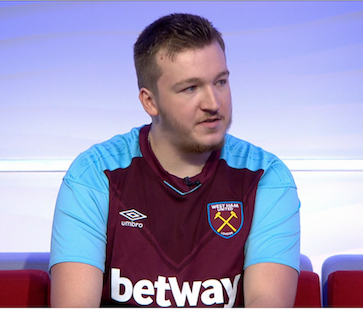 The Hammers are not the only Premier League club involved though. Friday's First Team opponents, Manchester City, will be represented by Kez Brown, a player Jamboo knows well.
"It will be really fun to play Kez." he said.
"We're good friends away from FIFA anyway and we regularly train with each other. Obviously, it's not going to be nice if either one of us knocks each other out but if we do meet, it will be a competitive game and I think I would be fairly confident."
The likes of Paris Saint-Germain, Sporting Lisbon and Roma will also be present at the tournament. However, with many of the world's elite FIFA players having already qualified for the FIWC, the door is slightly ajar for Jamboo who has a good record against many of the players who will play this weekend.
"I wouldn't say that I'm one of the favourites but I'm definitely amongst some that could definitely get there. With FIFA especially, I think anyone on their day could do it.
"The favourites are probably Paris Saint-Germain, they've got Daxee and Agge Rosenmeier there as well – two really high level players. They're probably the ones you want to avoid in the groups. If you can beat them, then you know you're well on your way and can definitely win the tournament."
He has been drawn in Group One and will play DaveBTW, QuintenX, AFC Ajax Koen, Vinch and Daxee.
The FIFA Interactive Club World Cup kicks-off on Saturday and will be streamed live on Skysports.com.