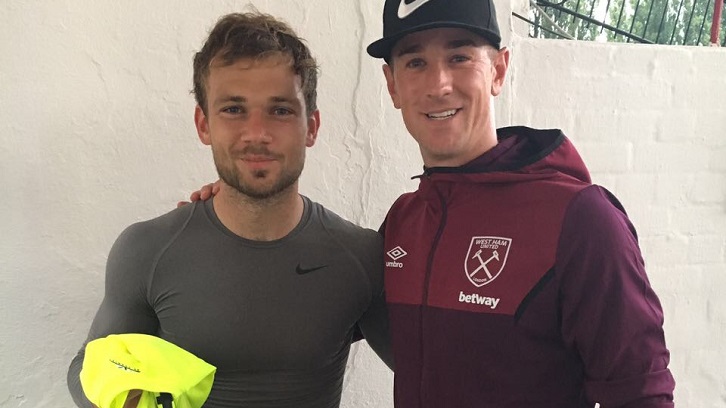 West Ham United's visit to Altona 93 gave Joshua Du Preez a once-in-a-lifetime chance to talk goalkeeping with Joe Hart.
And the 24-year-old was not about to let the opportunity pass him by, sending England's No1 a message via photo networking application Instagram.
The South African stopper explained how Hart had been his goalkeeping hero since the age of 12 and asked to swap shirts in a post replying to a post showing the Hammers stopper training with Mark Noble.
Hart spotted the comment and met with his fellow member of the goalkeeper's union after Tuesday's 3-3 draw at the Adolf-Jager-Kampfbahn in Hamburg, swapping shirts and passing on some tips to the former Charlton Athletic trialist.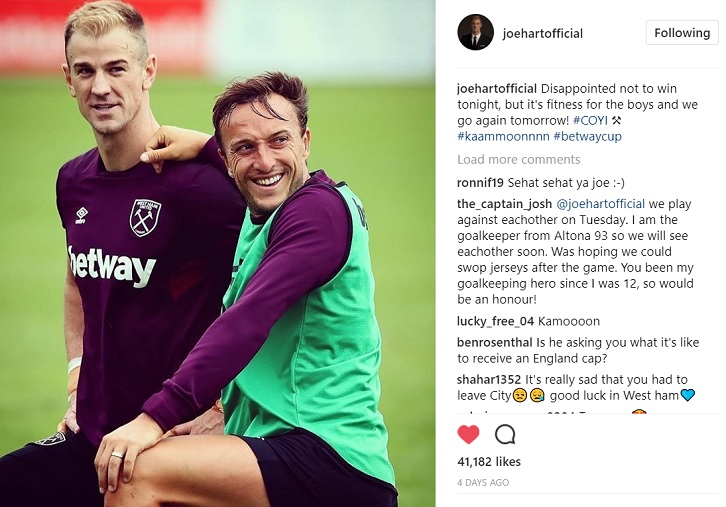 "I've been following Joe Hart since I was 12-years-old," confirmed Du Preez, who combines his football career by running his family's online florist business in his native Cape Town. "I started following him when he was just a young talent and everyone was talking about how he was going to be the next No1, and now he obviously is.
"I've been following him through the years and when I saw we were playing West Ham and he had signed, I thought 'I have to write to this guy before somebody else does' so I thought I would comment on one of his pictures and I can't believe someone saw it and it came true!
"It was very exciting chatting to him for a few minutes, too, and if he's got a girlfriend in Cape Town and he wants some flowers delivered, I'm his man!
"It's part-time and semi-professional here, so I also run a flower shop. I started in South Africa and now I run the online part of it here, organising the online orders and it's a family business, so my father takes control of the actual deliveries!"
While Hart's career path from teenage prodigy to Premier League title winner and England regular is well known, Du Preez's own has been far less typical.
Born in Cape Town, he was spotted at a trial and brought to England for trials. When they did not work out, he joined German club Osnabruck, before moving on to SV Todesfelde and, in 2015, Altona 93.
While he continues to pursue a full-time professional contract, Du Preez relished the opportunity to share a pitch with Premier League opposition.
"For me this was a dream come true," he enthused. "Since I was a little kid, I've always wanted to play against a Premier League team and I never thought it would really happen, but here we are!" he smiled.
"I was born in South Africa but it was always my dream to play in Europe. An agent spotted me playing through a programme and I went over to London and trained with Charlton for a little bit, but it didn't work out as I was just out of high school and the tempo was quicker than I could ever have imagined.
"My agent had a team in Germany who were interested and they took me on and gave me a chance and I'm still trying to make the dream happen."
Unfortunately for Du Preez, he scored an own-goal in Tuesday's game as West Ham came from behind three times to draw 3-3 with Altona in their penultimate pre-season match.