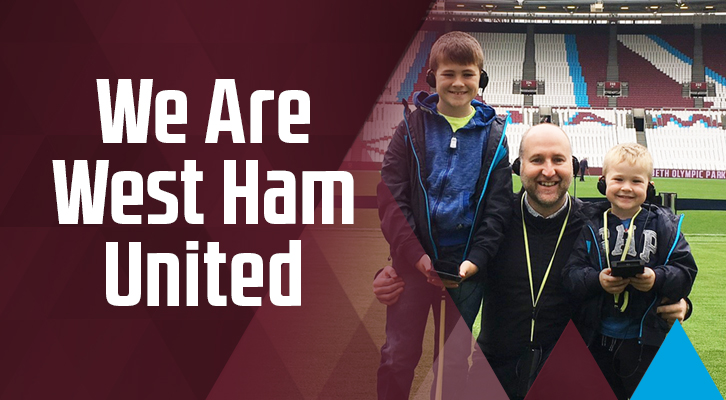 For West Ham United fan John Arnold, the decision to renew his Season Ticket at London Stadium for the 2017/18 campaign was an easy one – made by his two sons!
John, from Hornchurch in Essex, sits in the Sir Trevor Brooking stand with Sam, nine, and Oliver, five.
And the trio will be back at London Stadium next season, after the boys provided a resounding answer when asked by their dad if they were keen to continue attending.
John says: "The boys have really enjoyed the experience and, from my point of view, it has been fantastic for them to have the opportunity to watch every game.
"Sam is old enough to have been to the Boleyn Ground but the move to the new stadium has made it much easier for me to take Oliver too. I find the whole experience much more family friendly for us, and far more suitable for young children.
"When the Season Ticket renewals opened up, I asked the boys if they wanted to continue going next season and they both shouted yes straight away! So we have already renewed and they are really looking forward to next season.
"Especially Oliver, the little one. I wasn't really sure if he would take to it at first, but he is so enthusiastic and just loves everything about it.
"We've also been to some of the other events that the Club have organised, such as the Family Fun Day, which the boys enjoyed, and overall they have really fallen in love with the whole experience."
And for John, the opportunity to spend time with his two sons sharing a common interest is what makes being a 'West Ham dad' so special. 
"It's the best thing about it for me," he says. "Like most dads, I'm working all week, the kids have school and so when matchday comes along, it's a few hours where we get to spend some real quality time together.
"And in many ways – although we obviously want to see West Ham win – it becomes about more than just the football.
"It is also about passing on a legacy to your kids. I hope that, as they continue to grow, they will start to go with their friends and then their children in years to come.
"That for me, is the key to it all, that the Club continues through the supporters and generations of families. People don't just remember matches, they remember who they went with – dads, grandads, friends, and that is just as important.
"The children that go now in this first year at the new stadium are the future of the Club. I want my boys to follow West Ham through thick and thin, as I have done.
"It's easy for kids now to watch all the football on TV and say they want to support Chelsea or Manchester City because they keep winning things. I've told my boys – no, it's not about that, it's about your identity, where you come from and who you are. And we are West Ham!"